---
Luton-based Comline Auto Parts is a rapidly-expanding supplier of aftermarket parts for European, Japanese and Korean vehicles. The company's recent inclusion in the Financial Times' FT 1000 – a prestigious list of the fastest-growing companies in Europe – is just the latest in a steady stream of rewards and accolades bestowed upon it in the last couple of years, so PMM felt it was high time for a behind-the-scenes look at what makes this British company tick.
---
COMLINE – A FEW FACTS

Established over 25 years ago
Extensive ranges covering the majority of European, Japanese and Korean vehicle applications
TecDoc 'A' rated data provider
Product ranges include: braking, filtration, steering & suspension, lubricants, transmission, hydraulics, engine & cooling
On arrival at Comline HQ, the scale of the operation is immediately apparent – this is no small enterprise. In fact, the company's constantly-expanding product range boasts over 8,500 part numbers, available for prompt delivery, usually by the next day, to your local factor from Comline's 150,000 square foot warehouse facility. The Luton site is also home to the UK marketing, sales, product development, and operations teams, with a total employee count in excess of 150. One such person, and our chaperone for the day, is Leigh Davies, Marketing & Communications Manager, who feels that there's a false perception in the UK aftermarket that Comline is a budget brand that produces relatively low quality product.
"This just isn't the case", argues Leigh. "Comline is absolutely able to offer good value for money, but this is because of the way in which the business is structured – products are sourced for a good price, and we've developed a streamlined, low cost business model. We want this value to be passed all the way down the supply chain, from factors to garages and, in turn, to the end consumer. That being said, our company message is also one of dependability and reliability. Make no mistake, Comline is able to offer quality and value for money.
Clearly, the company is keen to assert that it aims to support the aftermarket with an arsenal of quality parts, delivered on time and at a sensible price. A key aspect of Comline's stated commitment to quality is the extensive product development and so-called 'OE benchmarking' that takes place on-site. Eager to find out more, and feeling like we were going where no outsider had ventured before, we took a trip to the quality lab.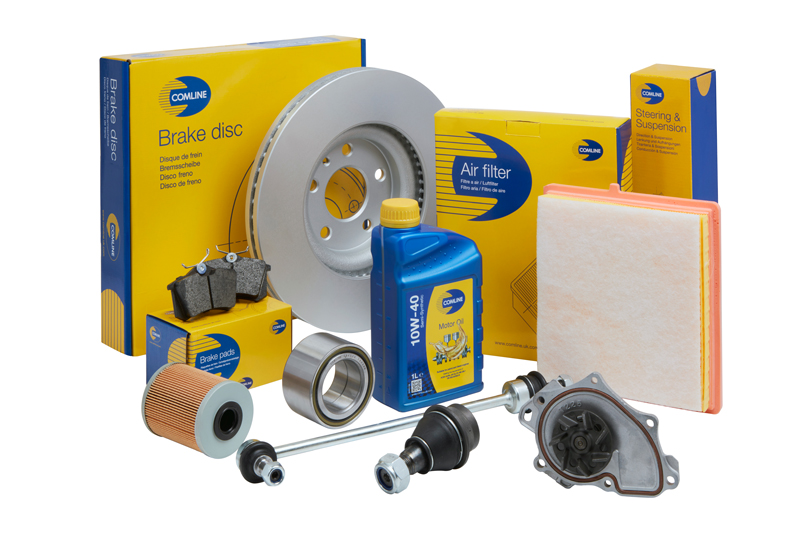 Product development and quality testing
Comline employs a team of expert product managers, each of whom is responsible for the testing and development of a specific product category. Regular readers, for instance, will be familiar with Dr Keith Ellis, Comline's very own 'Dr Friction', whose job it is to oversee research and development for the company's range of brake pads and discs. The quality lab is home to a 'friction tester', which enables Comline to test its pads against aftermarket competitors and OE components. One of the tests that braking materials must undergo, for example, is a 'fade test' which replicates everyday driving conditions at various temperatures, to ensure that the component displays a constant friction.
The lab is also home to testing equipment and personnel dedicated to clutch, filtration, and steering & suspension components, all of which are also claimed to be tested against an OE sample and leading aftermarket competitors. On the subject of quality testing, Leigh commented, "At Comline, we are not leaving quality to chance. All of our products undergo tests and checks before being packaged for delivery to the factor. It's safe to say that we have zero tolerance for manufacturing defects".
In the event of any fitment issues, the company aims to investigate such issues quickly, as well as offering a fully automated returns process. To aid technicians in the garage, and in a bid to eliminate fitment issues as far as possible, Comline is increasingly putting fitting instructions in the box with its products. The company also publishes regular technical bulletins on its website – at www.comline.uk.com/technical_bulletin – which highlight any fitment challenges that the team has identified with particular product lines, and the subsequent ways around them.
A large-scale operation
Stepping out of the quality lab, we're presented with the vast, yet organised expanse that is the Comline warehouse. Operations Manager, Mark Chesworth, provides an insight into the day-to-day running of this sizeable facility: "The Comline product range occupies four separate warehouses, and this is very much a 24/7 operation. We're organising 500 boxes a day in terms of UK deliveries – that's 25 pallets – and we can have as many as 200 pallets worth of export orders on the go on a normal day."
"We can now be confident that all of the products we offer are fit for purpose and represent serious value for money. For the independent garage, we hope this is an enticing proposition, and it's backed up by the fact that Comline is among the fastest-growing companies in the aftermarket today."Divyesh Kamdar, Managing Director.
'Marginal gains'
Evidently, there has been a huge investment made in the smooth operation of the warehouse facility, and the company's overall growth and development is perhaps nowhere better reflected than in the warehouse itself. Mark continues, "We're constantly looking at how we can improve our streamlining and delivery times, so everything in the warehouse has been optimised – the office team prioritise orders in relation to urgency, we keep faster-moving products at the front to help speed up picking, and we've come up with innovative and space-saving methods of storage. It's all about those marginal gains to help get the products out to the factor, and then to the garage, as quickly as possible."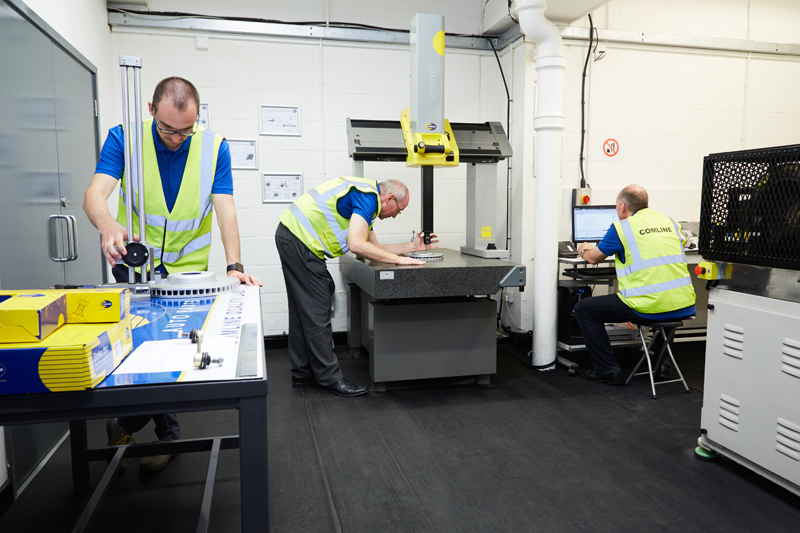 A voyage of discovery
Before retiring for a hard-earned lunch, there was still time to grab a word with Comline's Managing Director, Divyesh Kamdar. Divyesh believes that Comline enjoys a higher perceived pedigree and brand value in Europe than it does in the UK, but things are beginning to change. "Market perception of Comline in the UK is shifting more towards it being a brand associated with quality", notes Divyesh.
"Whilst we will never be able to claim that we have 'OE pedigree', that's simply not what we're trying to achieve here. We have, however, gone through something of a voyage of discovery when it comes to quality – from product sourcing all the way through to testing. We can now be confident that all of the products we offer are fit for purpose and represent serious value for money. For the independent garage, we hope this is an enticing proposition, and it's backed up by the fact that Comline is among the fastest- growing companies in the aftermarket today."
Comline has certainly come a long way since it began trading from small premises in Harrow, back in October 1991. While the journey began as an importer of purely Japanese parts, the company is now a bonafide 'all makes' supplier, delivering its own-brand aftermarket parts for all European, Japanese and Korean vehicles.
---