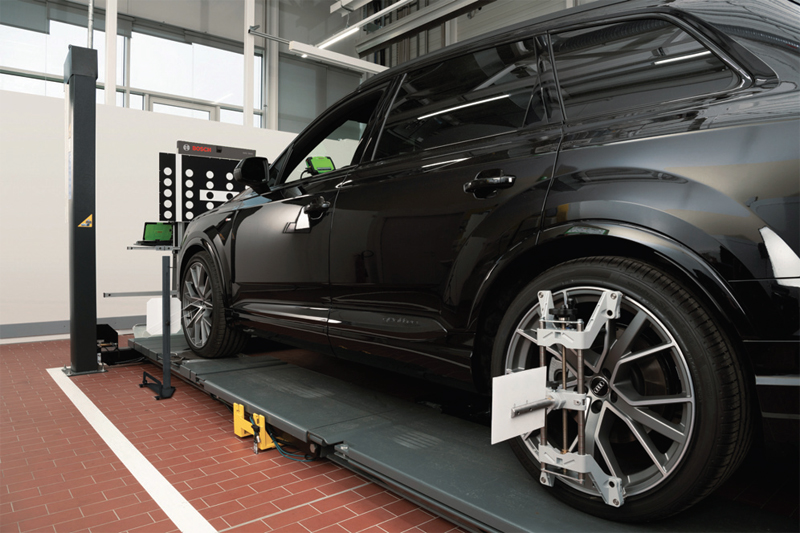 ---
Andy Morrison, Technical Specialist at Bosch, answers some key questions on the topic of ADAS to help independent repairers maximise the opportunity this technology presents.
---
PMM: Why invest now?
Andy Morrison (AM): Forward-thinking workshops are reaping substantial rewards from investing in efficient equipment and training to maintain and repair systems such as Lane Keep Assist (LKA) and Automatic Emergency Braking (AEB).
More than one in 10 cars on UK roads now have AEB, according to Thatcham Research, and it is no longer possible to gain a five-star Euro NCAP rating without it. With the EU looking to make AEB mandatory on all new cars from 2022, garages will be seeing ever more of these vehicles.
Establishing whether a car is ADAS-equipped is becoming essential to safe repairs. If ADAS sensors are in the repair specification, calibration must be completed to the vehicle manufacturer's tolerances. Even if a vehicle doesn't have ADAS, a record should be kept that no calibration was required.
PMM: How does the ADAS calibration process fit into an independent garage environment?
AM: The main dealers currently carry out the majority of ADAS work, but there's no reason why independents shouldn't be doing it as well. Indeed, Bosch Car Service members are increasingly turning to us for help in seizing this significant opportunity.
Another part of the business case is driver acceptance. We used to hear a lot that drivers didn't like, understand or use these systems. Today, drivers value the safety benefits and the ability to, for example, let their car handle start-stop traffic with minimal intervention.
A final pushback we hear is: "We'll wait and see because some new technology might come along". If you follow that rationale you'll be left behind. The number of ADAS-equipped vehicles is soaring and the current level one sensors will be fitted for at least another five years. The time to invest is now!
PMM: Why choose Bosch?
AM: Bosch is at the top of the ADAS game, offering a comprehensive aftermarket proposition: replacement parts, diagnostic devices, workshop equipment, training and marketing support. We're perfectly placed to design the kit that garages need, because we're the ones making the sensors. I'll explain what we currently offer:
The DAS 3000 is a universal, computer-based calibration and adjustment device for ADAS and is a great time-saving solution for all-makes repairers, bodyshops and windscreen specialists. Importantly, all calibrations conform to OEM requirements.
When working with the Bosch ESI[tronic] 2.0 software and KTS diagnostic tools, coloured retainers enable the easy mounting of targets at vehicle-specific positions. Integrated cameras and guided software routines then digitally measure the distance to the vehicle and the alignment to the axle.
It is also height adjustable for use in headlight test or lift bays, and the DAS 3000's large wheels and spring-loaded brake make for simple manoeuvring and stable positioning.
ESI[tronic] 2.0 Online is our flagship diagnostic software that features vehicle-specific ADAS calibration and adjustment, both static and dynamic. It guides you through the necessary steps for safety control, engine and transmission control, brake and lighting control, front camera, lane assist, speed limit display, rain/sun sensor, surround view, night vision and more.
Finally, our latest generation KTS modules provide fast access to the routines needed for an ADAS system calibration. With pre/post scans including diagnostic trouble codes (DTCs) and troubleshooting, the modules use PassThru and are compatible with both OBD and ethernet-based DoIP interfaces.
PMM: Aside from hardware and software, how else does Bosch support independents and their approach to ADAS?
AM: Alongside a diagnostic and calibration capability, repair competence is vital. We organise a one-day VSB40 Introduction to Advanced Driver Assistance Systems course that is designed for technicians who are considering working with ADAS. It covers the function and application of the main sensors, the reasons to calibrate and an example procedure.
In addition to this course, we are also pleased to announce the launch of our brand new two-day IMI Accredited ADAS Calibration course – VSB41. This course is designed for vehicle technicians and body repair workshops that are working on ADAS-equipped vehicles. Training covers the various different systems fitted and participants will have the opportunity to carry out calibration of multiple ADAS sensors using the Bosch DAS 3000, which I have previously mentioned. Whilst Bosch equipment is used during the training, feedback has shown that it will also benefit workshops who use other manufacturer's ADAS equipment.
---
For more information, including training dates and to book, click
here
.