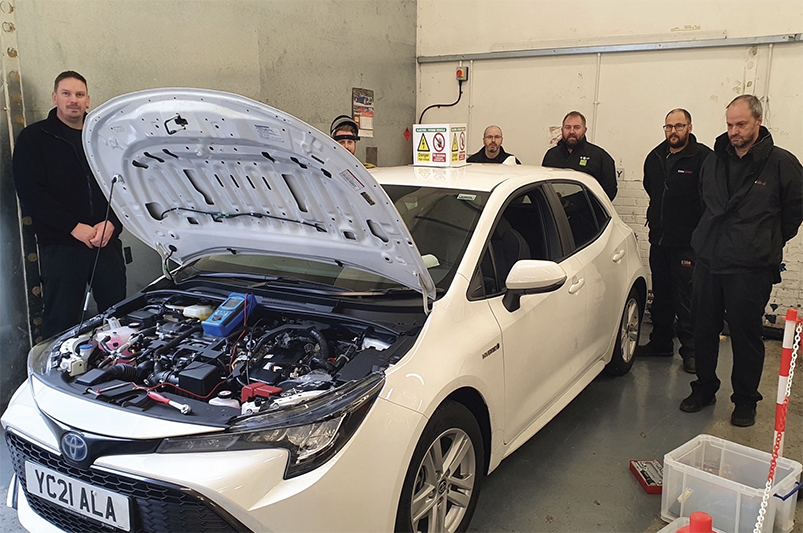 ---
Autotech Training's EV offering has been put to good use recently by Elite Garages.
---
A leading independent garage network has spoken about the huge uplift in customer demand for EV repairs and modifications since last spring.
Elite Garages, an independent tyre, MOT, car service and forecourt operator, with 14 sites across the south of England, sent a minimum of two technicians from each site, to complete their IMI Level 3 Electric/Hybrid vehicle training with Autotech Training to meet the growth in demand.
"Over the last seven months, we have seen a significant uplift in calls from customers for electric vehicle repairs and general advice," comments Josh Whittemore, Training and Development Co-ordinator for Elite Garages.
"We selected the number of vehicle technicians from each site to receive the EV training, based on the density of EV sales within their local area. For instance, due to a high number of Tesla sales within Bournemouth, four vehicle technicians from that site were trained."
Increase in demand
The increase in enquiries reported by Elite Garages is unsurprising. By the end of 2021, it's projected that one in 10 new cars in the UK will be electric, with numbers surpassing all EV registrations between 2010 and 2019 combined. As the UK continues on its course to the 2030 ICE vehicle ban, this growth is expected to accelerate, changing the face of service and repair work for garages.
While many EVs will still be within the warranty period, independent garages are seeing increasing numbers of calls from customers for general modifications, repairs and, due to a lack of EV knowledge on the part of the customer, advice: "Ownership of an electric vehicle is new to many customers, so they are naturally contacting their local garage for support, and it is vital that we have the knowledge to support them," Josh comments.
As Elite Garages testifies, turning thisbusiness away is simply no longer an option.
"We need to be prepared. Not only to be able to create a new revenue stream and meet customer demand, but to safeguard our employees and equip them with the relevant skills to work safely on these high voltage vehicles," comments Josh.
A division of automotive employment and training solutions provider Autotech Group, Autotech Training, offers Level 2-4 IMI electric/hybrid vehicle courses either from its EV training suite within its Milton Keynes headquarters, or on the premises of any garage or organisation.
Mandla Ndhlovu, Training Delivery Director for Autotech Training arranged for the two day, IMI Level 3 courses to be carried out within Elite Garage's headquarters in Partridge Green. A highly experienced trainer delivered the EV courses across several dates in November to the vehicle technicians. An electric vehicle was also brought along by the trainer for hands on learning.
Josh, who attended an IMI Level 2 electric/hybrid vehicle course at Autotech Training's headquarters himself earlier this year, commented: "I was very impressed with the delivery of the course, and the high quality training facility within Milton Keynes.
Mandla is extremely knowledgeable, we are already looking at booking the IMI Level 4 electric/hybrid vehicle course in the New Year and, when we open two new garages in the Spring, we will immediately send vehicle technicians from these sites to Autotech Training for their Level 3 EV qualification too."
Every one of Elite Garage's sites now has the relevant skills to carry out EV work, and the company is in the process of installing the correct EV infrastructure and equipment within each garage to ensure they have the provisions to carry out work safely.
---
Want to know more? For more information, click
here
.