---
Equipment specialist Pro-Align explains why workshops should adopt an integrated approach to equipment purchasing.
---
Investing in new workshop equipment can be a daunting experience. With so many brands and models of equipment to choose from, it can be difficult to decide what's best for your business and your customers. Then, of course, there's also the issue of cost. Understandably, most workshops want to keep their financial outgoings to a minimum.
It's perhaps no surprise then that equipment is often purchased in isolation, rather than as a complete integrated solution. What we mean by this is that workshops that are involved in replacement tyres will have all of the kit needed to do the job, i.e. tyre changers, tyre balancers and a wheel aligner, but they'll all be individual. They'll probably have been bought at different times, possibly from a different manufacturer or supplier, and it's likely that there will be fundamental differences in their operating systems and quality of their operation.
These issues may appear trivial, but for mechanics using the equipment day in, day out, this can be a serious cause of frustration. Not only can it hinder their work but it can also prevent them from providing their customers with the very best levels of service and care. In turn, this prevents the workshop from developing a reputation as a knowledgeable tyre specialist that has the ability to draw in customers from afar.
For workshops looking to offer their customers a complete wheel servicing solution, a much more sensible, efficient and effective approach is to address the issue of equipment purchase in an integrated manner. By looking at your wheel balancer, tyre changer and alignment system all together, there are a number of significant benefits to be achieved: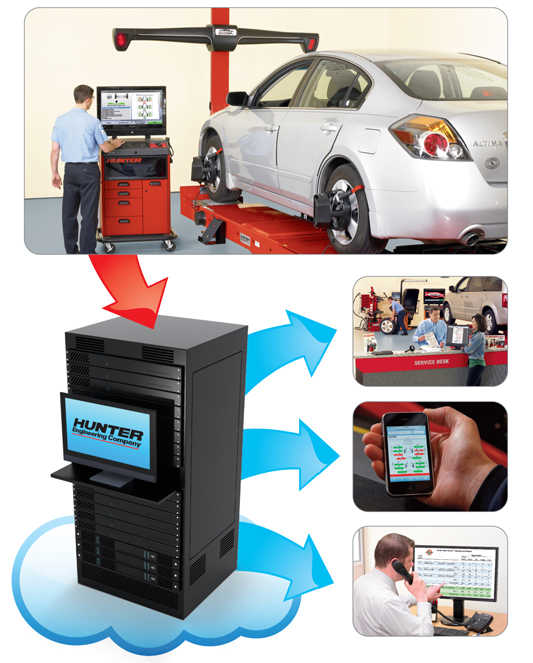 Purchasing efficiency
Let's face it, few workshops have the time or desire to listen to the sales talk from various equipment suppliers, so minimising this means time can be better spent fixing cars and earning money. By consolidating your tyre servicing equipment purchasing through one supplier, far less time can be spent on this process.
Bargaining power
Larger national or multi-site operations always have some bargaining power with equipment suppliers because of the number of items they're buying. When consolidating your tyre equipment purchasing, the same principles apply and you're in a much stronger position to negotiate more favourable terms.
Installation disruption
When equipment is added or changed in a piecemeal fashion, there's often disruption to the whole workshop. Work often grinds to a halt, especially if power needs to be disconnected or specialist ground or building works need to take place. Then there can be further disruption while machines are moved around in order to try to accommodate everything properly. When taking an integrated approach and replacing everything together, your equipment supplier may be able to plan the layout and installation more effectively. Disruption can be minimised, ensuring your workshop is up and running again as quickly and as efficiently as possible.
Systems and training
When using the same make of equipment across the board, each individual piece of equipment is likely to have a similar operating system or way of working. This degree of familiarity makes life much easier for technicians using the equipment. Any training required therefore becomes much simpler, and because it's being given by the same equipment supplier, it can all be carried out at the same time.
Equipment integration
Equipment integration is increasingly important, as it allows workshops to provide their customers with a comprehensive, easy to read report. Hunter wheel aligners and balancers can integrate with Hunter's own Hunter Net web application, allowing online access to customer results and management reports, as well as the latest vehicle alignment specifications. It is also possible to integrate Hunter's Alignment and QuickCheck systems with existing dealer EVHC reports – providing relevant, easy to read customer information.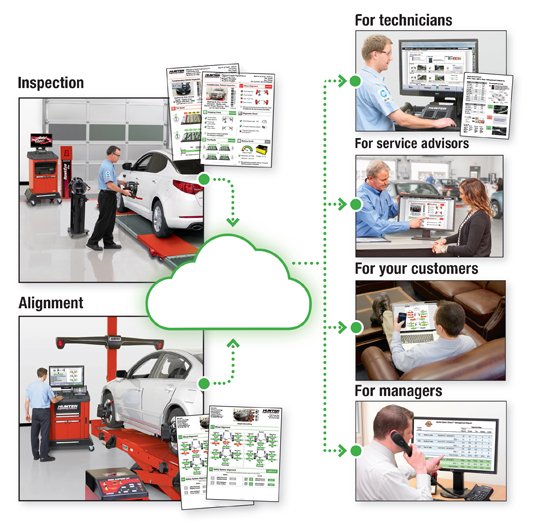 Aftersales support
Whether it's a technical query or a routine service visit, dealing with one supplier is much easier than dealing with three separate ones. Pro-Align's service engineers are experts in all of Hunter's systems and are therefore able to address any issues with any of the equipment in one simple visit, minimising downtime.
Customer perception
One should not overlook the importance of customer perception. Naturally, it looks much more impressive and professional to have a workshop full of matching, integrated equipment. An integrated purchasing strategy will help your business develop a reputation as an expert in complete wheel servicing, creating a valuable point of differentiation from your competitors. So, if you're looking to boost your tyre business or invest in any new workshop equipment, it makes sense to adopt an integrated approach.
---
For more information on the Hunter wheel alignment products available from
Pro- Align, click here
.