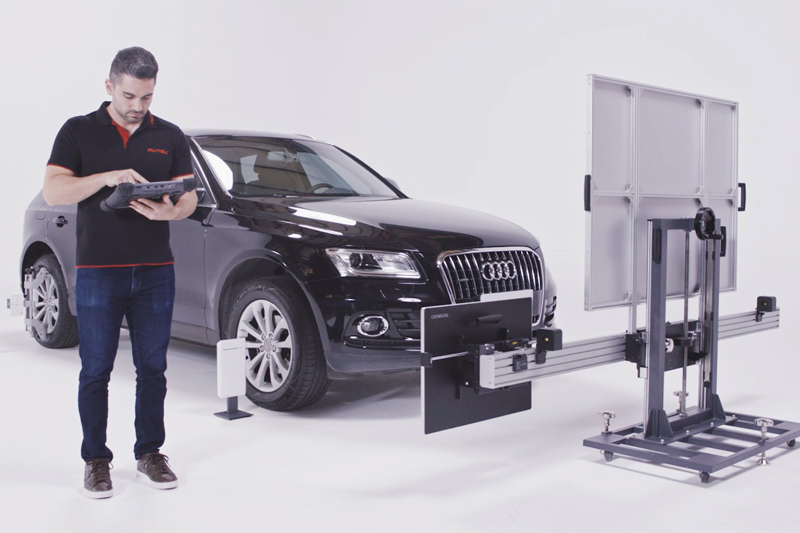 ---
There is a perception within the trade that offering Advanced Driver Assistance Systems (ADAS) servicing is expensive, time-consuming and complex. However, Autel believes that with a bit of investment in equipment and training, there's no reason why independent garages can't reap the rewards of the growing ADAS-equipped vehicle parc.
---
The systems under the ADAS banner are designed to offer increased comfort and safety to drivers, and VMs are adding more and more of these systems to their new models, in order to not get left behind in the safety stakes. As with any new technology that eventually finds its way into the aftermarket, ADAS has been met with trepidation, but with the influx of ADAS- equipped vehicles only going to continue, garages are ill-advised to ignore it completely.
Opportunity awaits
According to Autel – a company with a comprehensive aftermarket ADAS offering – the fear surrounding ADAS is not justified, and if you can do wheel alignment, you can do ADAS recalibration. These advanced systems are affected by mechanical alignment adjustments, and this means that many vehicles require electronic resets for these systems after a mechanical alignment is performed. Being able to offer this recalibration as part of a wheel alignment service clearly has revenue potential for garages, but many are currently passing up the opportunity.
What do you need?
It's no secret that ADAS equipment is expensive, but that needn't be a barrier to entering this profitable market. Autel's principal offering is the MaxiSYS ADAS calibration tool package, which includes a modular calibration frame, a wireless scan tool with bi-directional diagnostics for coding and activations, weekly software updates and guided procedures that guarantee precise measurements.
Autel provides weekly software updates for the newest coverage, to help users keep up with market developments and ensure precise vehicle calibration. The MaxiSys software offers comprehensive coverage and guides you throughout setup and calibration procedures, making it easy and fast to use.
Work area requirements
Calibration procedures should be performed inside, on a level floor. Some vehicles require targets to be placed 20 feet away from the vehicle. During other procedures, alignment should be performed with a bright background light. Uneven surfaces, poor lighting or shadows might affect calibration.
Stationary and dynamic calibration
Some systems require specific targets for calibration, while other systems, such as forward facing cameras, may not. Those that don't require a pattern target need to be 'learned' with a scan tool. After the learning, a road test on a straight road with clear lane markings is needed to complete the calibration.
Dynamic calibration is generally the preferred method for some camera sensors, and may be the only method available. Radar sensors often require static adjustment followed by an on-road procedure. Dynamic calibration starts with a vehicle scan using a diagnostic tool and ends with a test on a straight road with clear lane markings. Here, the vehicle must be driven for between five and 30 minutes at a specified speed, until the scan tool indicates that the calibration is complete.
ADAS EXPLAINED
ADAS is one of the fastest-growing areas of vehicle electronics. It was borne out of the fact that the vast majority of road traffic accidents are caused by human error, so systems that can automate, adapt and enhance vehicle systems can help to eliminate avoidable collisions. ADAS includes systems such as electronic stability control, anti-lock brakes, lane departure warning, adaptive cruise control and traction control – and the list keeps growing. ADAS relies on inputs from multiple data sources, including automotive imaging, LiDAR, radar, image processing, computer vision, and in- car networking.
---