"It makes CV boot replacement a pleasure, rather than a chore."
If you were to take an industry poll of the greasiest and messiest jobs that garages are faced with, the replacement of CV gaiters would feature somewhere near the top of the list.
I've been in the trade for over 30 years and have always disliked undertaking a CV boot replacement. This is mainly because changing a drive shaft gaiter can sometimes involve having to strip the front suspension and, on occasions, removal of the complete drive shaft to break the joint, in order to replace the gaiter.
In recent years the stretchy boot has appeared as a replacement for the manufacturers' standard CV boot, but the one problem with this has been fitting the stretchy boot over the CV joint. To get around the issue, some suppliers produce kits that usually come with the boot and a cone, to help stretch the boot over the CV joint.
A good idea in principle but, in most cases I've experienced, the cone has not been large enough to go over the CV joint. Even though the cone is lubricated it still required a bit of muscle power to slide the gaiter up and over the joint.
As you can imagine, the offer to trial a tool that could make the job much easier was very welcome.
The solution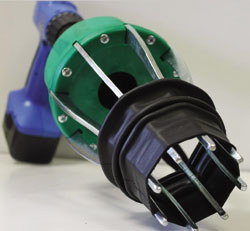 I've had the Duralec CV boot replacement tool from Bailcast on test for the past few months. Essentially the tool, with the aid of an electric drill (or windy drill), will open up the gaiter to the precise size of the CV joint, allowing you to slide the boot over the joint and onto the drive shaft.
There are other versions that connect to the airline, but we find this model works best for us as you don't have to power up the compressor. Additionally, if you're mobile then you may not have access to compressed air.
"The tool features a lightweight but robust design and comes with a two-year warranty. It is very easy and comfortable for the technician to use."
I'm going to be short and sweet with my analysis of the tool as CV boot replacement is not a subject that needs dressing up. Put simply, I think the tool will bring a smile to your face as you use it. I was impressed at how quickly and cleanly I was able to do the job and struggling with cones has been consigned to the memory bank.
I'd certainly recommend that readers take a look at the Duralec tool as I believe you'll recoup your investment very quickly. The labour time saved and the fact that you'll actually look forward to taking on the next replacement job that comes into the workshop makes this an excellent purchase.