---
British Superbikes rider Tommy Bridewell tells PMM how he's incorporating Traction Charger's battery charger into his 2018 British Superbikes race strategy.
---
This season will see Tommy Bridewell donning an additional orange logo as he speeds through the rounds at British Superbikes now he has a new sponsor – Traction Charger – on board. Traction Charger manufactures charging technology for the automotive market, and as part of the sponsorship deal, the company has given Tommy an MPL10 unit – its most popular battery charger model, which boasts OEM approval from the likes of Jaguar and Nissan.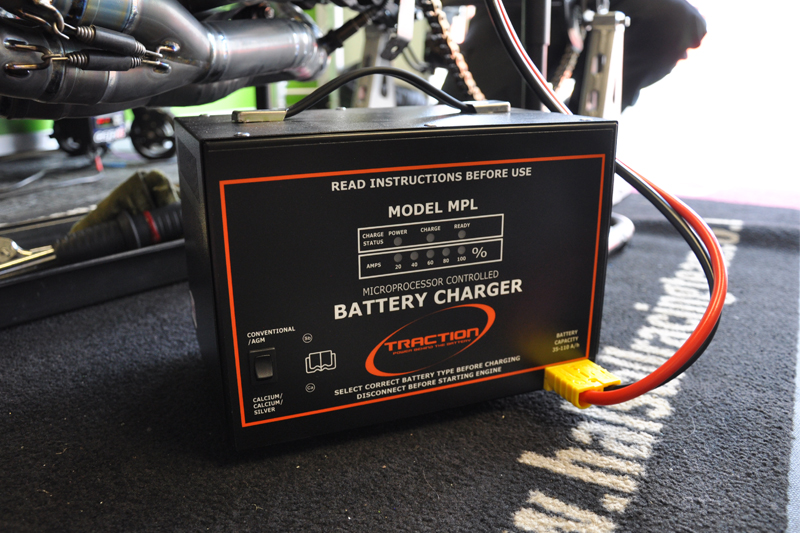 Tommy explains what his race strategy is this year, and why this charger is doing its small bit to help him win that elusive podium place: "This year I'm racing a Suzuki GSX-R 1000, which has a BHP of 225 and a top speed, depending on the circuit, of around 198mph. It's a really great bike to start with, and the team have been working hard to make all the necessary modifications so it's the best it can be. I actually have a small team – only three mechanics, all from Italy. I have a mechanical background that gives me a good understanding of the bike and what's required in each debrief. We'll use the MPL10 as it automatically switches to conditioning mode when it's finished charging, so we get the absolute maximum out of the battery's ability.
"It's great that the battery charger is OEM approved too, as it gives me the reassurance that we're using the best bit of kit available, and to win it's all about incremental improvements which add up to great performances.
"As with every year, my plan is to try to get a podium place. The best I've done is 3rd in 2014 and I feel ready to improve on that. The goal is to reach the showdown, which is where those with the highest scores from the last nine rounds will get to compete for the BSB championship. The rules of BSB changed in 2010 to include the showdown, which makes it a fairer and more exciting sport now.
"When the MPL10 isn't with me in the paddocks, it's with my dad who owns Wayside Garage in Etchilhampton. It's where I spent my teens working and learning. The charger is an asset to the workshop, charging and conditioning to add value to each service."
The MPL battery charger from Traction Charger is available in 12V, 10A, 20A, 50A and 24V 10A and 20A versions to meet the charging requirements of most battery sizes. The MPL is suitable for use on AGM, GEL, Calcium and Lead Acid battery types. The battery charger is OEM approved, and used by some of the world's leading vehicle and battery manufacturers.
It features Traction Charger's own patented Sulphation Recovery System. Other features include: Short Circuit shutdown without blown fuse, Reverse Polarity Protection, Soft start current control, three-stage charging (CI- CV-Float), Proportional timing with minimal gas emission, Constant voltage float/standby, and many other features. It is fully flexible to match almost any battery specification.
Although the product features sophisticated charging methods, it is very simple and safe to use. Batteries can be left connected indefinitely at the end of charging. All Traction MPL chargers are sourced and manufactured in the UK, ensuring exceptional quality in every unit, according to the company.
---
To find out more about the range of battery chargers available from
Traction Charger
,
click here.