Andy Powell, Yorks, gives us an overview of the Bosch Light Vehicle Inspection Training – "An essential step on the MOT tester ladder."
Although I've been a technician for a number of years, my only real association with MOT testing has involved taking a vehicle for its annual test and standing by with fingers crossed.
I was, however, as interested as anyone when it was announced last year that there would be a change to the MOT Tester qualification, with the traditional DVSA MOT Tester scheme replaced by a new
system that would see the role of MOT Tester fall under the NOS (National Occupational Standard) umbrella as a recognised qualification in its own right, ensuring that all testers are trained and equipped with the necessary skills to carry out an MOT test. To be able to gain full MOT Tester status however, individuals must make sure they have the correct qualifications in place and that the right pathway is followed – you can't simply roll up with no previous training or experience and become a qualified MOT Tester overnight.
Part of this pathway dictates that technicians need to have a relevant level 3 qualification so, having decided that becoming a qualified MOT Tester would add an extra string to my bow, I was offered the
opportunity to put some valuable foundations in place by taking part in the Bosch ATA Light Vehicle Inspection Technician (LVIN) level 3 course that the company is running at its Service Training Centre (STC) in Uxbridge. This three-day course consists of two days' pre-assessment training followed by a third day of assessments, some of which are directly related to MOT testing, along with some that are targeted at general competence within our industry.
What did we do?
Day one:
After the delegates went through formal introductions to one another, we started our training by going over the elements of health and safety that are critical to the MOT test, before moving on to best practice regarding the use of the correct equipment in the proper manner and identifying, sourcing and using the necessary technical data and accurately reporting our findings to the customer. This was followed by an end of unit 'refresher' and mini test – a common theme throughout the rest of the modules that we covered on the course.
The next stage of the course saw us recapping/improving on our competence, knowledge and skills to diagnose and repair electrical faults using wiring diagrams and the correct test equipment, along with a
logical process. Module three then focused on our ability to carry out an inspection on a specific vehicle system (in this case steering and suspension), locating and following the relevant sections of the MOT Inspection Manual and how to recommend the correct repair actions, where required.
Brake inspection was up next, which required us to prove we were capable of both a visual and technical inspection of a vehicle's braking components, plus an overview of how modern braking systems work and the best practice involved with these.
Day two:
After a decent night's rest we were back on to braking in the morning with a few practical  demonstrations thrown in – ranging from disc 'run out' to brake imbalance – and guidance about how to check things like brake pipes. As importantly, we also covered the 'do's and don'ts' during the full MOT test.
Supplementary Restraint Systems (SRS) were next on the agenda, including details of how to inspect airbags and seat belt pretensioners during the MOT. Next we moved on to Vehicle Structure inspection and the key elements associated with this. Of particular interest in this module were the types of repair that are allowed to be carried out to 'prescribed' areas (structural or load bearing to me and you) of the vehicle, particularly if they 've suffered from corrosion. A very important module was up next, covering Exhausts and Emissions, and this looked at items such as vehicle pass/fail readings and how to understand the emissions levels for both petrol and diesel vehicles.
Another interesting element was how to use our knowledge to explain to the customer about issues that might have been flagged during the emissions test and what might have caused these.
The eighth and final module involved Vehicle Appraisal. This encompasses many of the elements that we picked up from the other modules and requires delegates to show that they can inspect a vehicle using a structured inspection process and routine that flows around a vehicle so that they perform an
accurate test. We then learnt how to clearly communicate our findings to customers, especially in the event where serviceable but worn items may require attention immediately or in the medium/long term future.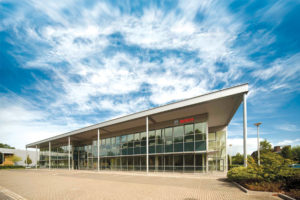 Day three:
With so much information to take in over the previous two days, I was understandably nervous about the assessment day, which basically puts all of your knowledge into practice through five practicals and two online assessments.
The big theme throughout all of the training we received was the best practice and safety involved with the MOT test, and delegates were required to show these principles throughout each assessment – so it was on with the PPE for me, and the VPE for each vehicle! I won't give too much away here, as you'll have to take part in the training yourself to experience what was covered in the assessments, but needless to say they incorporated the key modules covered by presenting us with practical, real-life scenarios (such as performing an emissions test on a  vehicle with an emissions fault) and then how we'd record the results, diagnose the fault and communicate this to the customer. The last practical ex am then required us to undertake a full vehicle inspection (not an MOT), proving we could follow a methodical routine to work within a certain time frame.
With the practical assessments over and the finish line in sight, two online assessments – one covering general light vehicle knowledge in a multiple choice format, and the other posing questions on structure and corrosion – concluded the course.
Personal thoughts
Although there was a significant amount to take in over the three days, I found the whole course to be very interesting and well run. The instructor (Mark Carter) was ex cellent throughout, keeping the course running to a decent pace and the delegates interested and stimulated throughout. I learned some new things and also had the opportunity to refresh my knowledge on a few bits that I either hadn't used for some time or had simply forgotten.
I must say that I've also attended several courses in the past where other delegates may have had a little too much liquid refreshment of an evening, yet still passed. That's certainly not the case here as you can't afford to be 'off your game' when it comes to the assessments. Fo r me, that's a positive thing and also
reflective of the fa ct that the MOT Tester should be a serious and valued occupation. Finally I'm very pleased to say that I passed the course and am now officially ATA level 3 qualified. I now hope to move on to achieve full MOT Tester status at a later stage.
For further information on
Bosch Automotive
training programmes, click
here.