---
Drawing on his past experience of winning the business of local van fleets, Andy Savva explains why garages are missing a trick if they're not looking to the expanding LCV market for additional revenue.
---
Andy Savva is a former multiple independent garage owner who boasts over 30 years' experience in the automotive repair sector. In every issue of PMM he'll be sharing his advice with workshop owners who want to improve their business' bottom line, but simply don't know how to go about it.
It was interesting to read an article in December's edition of PMM discussing market trends, specifically the growing number of light commercial vehicles on our roads. This is expected to increase by another 38% within the next three to five years. That's a lot of vans!
One obvious cause for this increase is internet shopping which, as December's article stated, has meant "large companies outsourcing an increasing number of deliveries". Many of these are of course to well-known larger companies such as UPS, Royal Mail, and DHL. However, it has also created many opportunities for the smaller local firms – including one-man band operators.
These smaller operators, that do not have the resource of larger competitors, find themselves using their vans 24/7 and rarely managing the vans' service and repair needs. We all know skipping servicing and maintenance schedules has a dramatic longer- term effect and leads to costly repairs!
In my current role travelling up and down the country visiting all types of aftersales operations, what I see is a lack of businesses taking up the opportunity that is presented by this lucrative market. Now you may ask, how does Andy Savva know it's lucrative? I do because I've been there and done it in my previous garage business life – not once but twice! If you have a well thought out strategic marketing plan, you increase your chances of success. However, there are a variety of questions and issues that need to be considered and answered. For instance:
■ Do we have the workshop space?
■ Do we have the height (minimum 6m eaves)?
■ Do we have enough daily parking for three to five vans?
■ Are our current ramps adequate to lift these light commercial vehicles or do we have to invest in new 5-ton commercial lifts?
■ If you currently carry out class 4 MOTs can you expand your facilities to facilitate class 7 too?
■ What additional tooling and equipment will you require?
■ Are you going to specialise in a couple of brands or aim to offer servicing and repairs to all makes and models?
■ Will you have to employ more technicians?
■ What opening hours will you offer?
■ Will your labour rates differ from your existing ones?
All these issues – and more – have to be investigated and resolved as they will form part of your strategy and marketing plan moving forward. Now, for many garages the first two to three questions will quickly establish whether you can, or for that matter cannot, proceed, because not having adequate space will prevent you from servicing and maintaining these vehicles. Some of these light commercial vehicles (up to 3.5 tons) will have a wheel base of 5 to 7m and roof heights of up to 3m.
However, there are many premises that will have adequate space and room height, and having this new focus on light commercial vehicle maintenance will help create additional footfall, thus increasing labour hours sold – critical to any service business. An important point to note here is that van owners are usually very different from car owners, in the sense that they may not care so much about a little squeak or a rattle, and many vans have less cockpit electronics than cars to worry about. Essentially, apart from the size of vans they are actually easier to work on. Most van owners just want them safe and legal. That's it. It's their workhorse at the end of the day.
Earlier I mentioned that I'd been there and done it. Well, I managed to find my entry folder for the Garage of the Year Awards held by the Motor Trader Magazine back in 1999 – yes, back in 1999 – and I don't want to blow my own trumpet (OK, a little bit) but I was way ahead of the times and the three attachments show the kind of marketing material that was used and the success we had from it.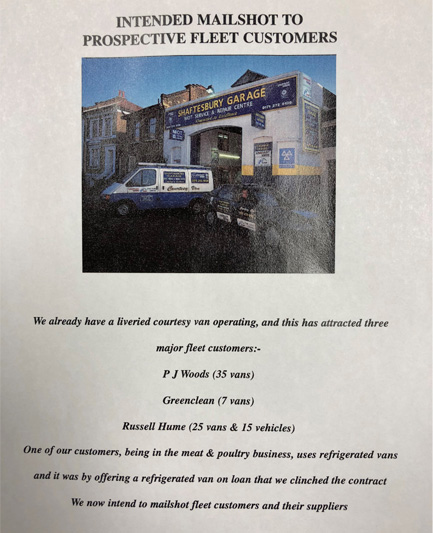 Fig 1, which displays a photo taken outside my garage (Shaftesbury Garage), shows one of our courtesy vans all liveried up. This was soon expanded to refrigerated vans too. I realised 20 years ago the importance of having an attractive offering to local fleets – and at the time it was a unique selling point that no other garage could offer. If you read the literature (see Fig 2) hopefully you'll agree that it was an innovative approach, shouting hard and loud to potential local fleets. Within in a short period, we managed to secure great success.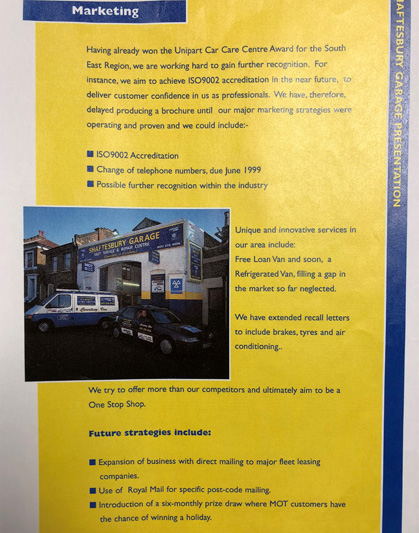 I knew then the importance of businesses keeping their vans on the road and the disruption it could cause if these vans were breaking down. Even just having them off the road for scheduled maintenance was an issue for some operators and that's why we made it easy for them – with loan vehicles specific to their trade. Soon the offer was extended to manage their fleet so we would tell them when to bring their vans in. We even extended our closing times for two nights of the week until 10pm!
It wasn't easy 20 years ago. We had no social media and access to the data we have today. It was hard graft and not only did we deliver our leaflets locally, but I remember getting off my backside and knocking on doors, as well as looking through our local Yellow Pages (I know!) and cold calling potential local businesses that may have had vans.
I believe that this showed passion, desire and drive. You may argue that it must have been expensive to have all these vans and give them out for free. Of course it was; as with any business it has to be looked at on its own merits, but all I can tell you is that, over the long term, it gave us a great return on investment. In fact, within three years we had moved to a larger facility and by the time I had sold that business in 2005, we had about 12 loan vans covering many different sectors.
Business is all about doing what you do better than anyone. Yes there are many challenges facing our repair sector – we all know about them – but it was no different 20 years ago; it was just a different set of challenges. Businesses come and go, some survive better than others, and some get replaced by new businesses that put their customers first and provide market leading services and products for their consumers.
I strongly believe that there is a great opportunity for many garage owners to expand their business through light commercial vehicle maintenance. For those that may already carry out this type of work, maybe it's time to reflect on how you offer this service and see how you can improve it.
---
If you'd like to find out more about how
Andy Savva's
consultancy services could be of benefit to your business, email:
andy@savvaautomotive.com