Prestone's Global Technical Director, Bruce Ellis, explains why engine coolant is essential for optimum engine performance.
With winter and colder conditions upon us, now is the perfect time for mechanics to ensure their customers' vehicles are adequately prepared to perform reliably in extreme temperatures. Topping up or replacing oil and coolant/antifreeze, while flushing out used fluids, should form an essential part of winter car maintenance.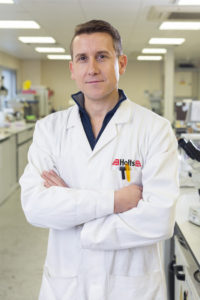 Most vehicle owners know how important it is to regularly check oil levels and stick to the manufacturer's service recommendations.
Many don't understand that just like oil, coolant antifreeze deteriorates over time. Most traditional coolants need to be changed every two to three years.
During the winter months, it is especially important to have the right type and level of antifreeze in the engine to prevent freezing, damage and engine failure.
Is there a difference between coolant and antifreeze?
The simple answer is no, a high performance coolant also contains antifreeze to prevent freezing in winter. However, the primary function of a coolant is to maintain optimum engine temperature all year round.
In conjunction with oil, coolant is circulated around the engine to dissipate heat generated in the combustion process. Heat is transferred through the vehicle radiator, therefore cooling the engine. Even in the most extreme low temperatures, the engine needs coolant.
Why is it important to check your Coolant/Antifreeze levels especially now? 
If the engine has the wrong type or level of coolant/antifreeze the results can be devastating during the cold winter months.
If the fluid freezes, it will expand in volume and cause cracks in the cooling system. When the coolant leaks out, the engine will experience overheating. This combination can lead to complete engine failure.
Why Prestone?
Prestone Coolant/Antifreeze does everything you'd expect of a brand leader in one of the most demanding markets on Earth, and contains the highest quality ingredients to help maintain optimum engine temperature. From being tested in some of the most extreme temperatures on the planet in the US, Prestone is more than capable with dealing against freezing and overheating in the UK.
But that's only part of it. It also contains ingredients to prevent corrosion inside the cooling system while protecting each metal and non-metal part. When Prestone is used to replace old coolant at the normal service interval, it will protect the cooling system of any car engine for up to 10 years or 150,000 miles.
Finally, it will mix with any other type and colour of coolant/antifreeze in the world. So regardless of the coolant already in the engine, Prestone is perfect for topping up.
Performance benefits?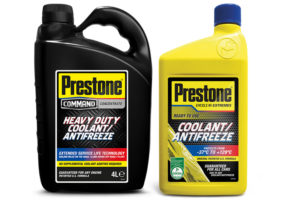 Prestone Coolant/Antifreeze meets or exceeds the performance requirements of all car manufacturers worldwide. It also ensures that any car engine will perform in even the most extreme weather conditions, working at temperatures as low as -64°C*.
"Prestone is available as a concentrate in bulk sizes; ideal for use by any mechanic in any engine. Because it is suitable for all cars, it saves garage mechanics money, time, and storage space.
Do different car makes require a specific colour of coolant/antifreeze?
At Prestone's Technical Centre in Danbury, Connecticut, US, teams of scientists have spent years developing and testing coolant/antifreeze formulations. Only through using industry standard testing can Prestone guarantee suitability with all cars and compatibility with all coolants. As well as being the best friend to the garage mechanic, it supplies coolant to the world's largest vehicle manufacturers. When the car leaves the factory, it contains Prestone.
Prestone's OAT (Organic Acid (Additive) Technology) has completed over 18 million miles in testing and many more millions of miles on the road, earning it Prestone's prestigious Guarantee stamp.
Its coolant/antifreeze comes with the a Compatibility Guarantee, and is endorsed by German-based vehicle inspection company DEKRA, having proven to protect against corrosion, overheating and freezing.
For more information on
Prestone
and its range of products, click
here
.