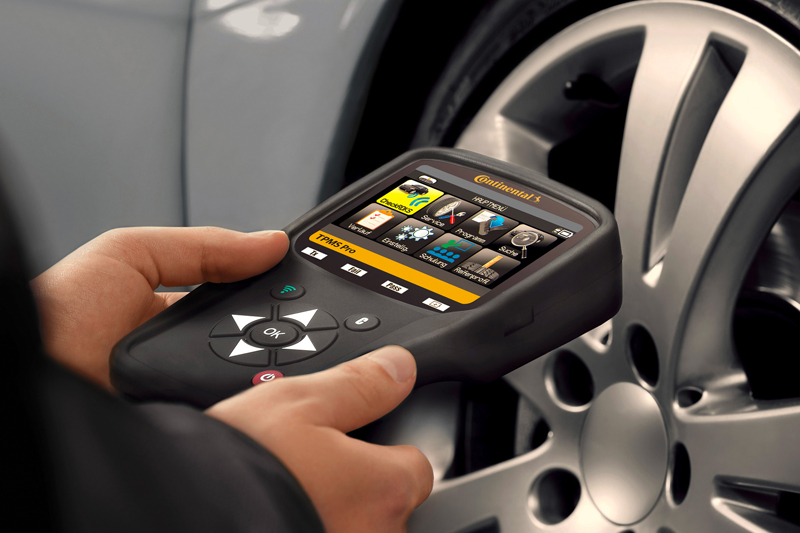 ---
Continental delves into the subject of TPMS diagnostics and explains why workshops should consider its uptake.
---
There are many reasons workshops may be reluctant to move into tyre-pressure monitoring system (TPMS) diagnostics. Many feel it is either beyond their capacity, financial resources or that they simply have not got the time to select the right TPMS tool for their requirements.
Another concern is that TPMS diagnostics is a leap into the unknown and therefore a costly hindrance – a fear shared by many businesses. Yet workshops now increasingly need to consider 'new concepts' around customer service, satisfaction, and repeat business. In turn, owners and operators should consider what can be offered in-house, and where profit margins can be maximised, especially in this competitive day and age.
In this situation, workshops with their own TPMS diagnostic tool can enjoy two key benefits. Firstly, there is an obvious impact on profit, as it keeps them in control of the repair process. For example, in scenarios where the TPMS light is on and a faulty TPMS valve needs to be replaced, the car may need to be driven to the nearest tyre centre 30 minutes away. As the car needs to remain there, another mechanic will have to come and collect the first, adding another 30 minutes to the task.
Consequently, both mechanics will have spent over an hour just getting the car offsite, let alone fixed and returned to the workshop. The business therefore loses over an hour of manpower – and repeated over time, this can hugely impact profit.
Secondly, the lack of a TPMS tool can also affect a workshop's ability to provide good customer service. Two mechanics running back and forth to get the car to the tyre centre means man hours are lost, which can have a knock-on effect on completing work.
Mechanics may then be left apologising – "Sorry Mrs Smith, we had really hoped your car would be ready today, but we couldn't get hold of that final part," – leaving Mrs Smith unsatisfied with the service she received. By contrast, having TPMS diagnostic capability on-site puts the business in control. The car doesn't need to be taken anywhere, and mechanics know exactly when the work is going to be done. Therefore, accurate promises can be made to customers, increasing satisfaction and generally making your life easier.
Additionally, the DVSA confirmed 1.3m tyre-related defects found in MOTs between April and December 2020. With millions of vehicles fitted with TPMS, more and more will need diagnosing or repairing. With this in mind, the quicker you can get on the TPMS diagnostic ladder, the less of a shock it will be in the future.
Tyre servicing
In order to simplify the task faced by vehicle workshops when handling TPMS sensors, Continental is launching its new TPMS service devices to the aftermarket – the TPMS Go and TPMS Pro. These new devices have been developed using Continental's expertise as a global automotive supplier and one of the world's largest suppliers of tyre pressure control systems. As a result, workshop owners can be assured of an extremely high-quality tool as they take their first steps into TPMS diagnostics.
TPMS Go and TPMS Pro
Continental's TPMS Go tool is ideal for those new to the technology. This device, which uses wireless technology to read TPMS sensors irrespective of the sensor manufacturer, and regardless of whether these sensors are the originally installed devices or have since been replaced. The tool is able to promptly determine important sensor information such as tyre pressure, temperature, battery status, or sensor ID. If necessary, the TPMS PRO can do even more – it not only reads data, but can also programme or configure unprogrammed aftermarket sensors.
Additionally, the TPMS Pro possesses an OBD II interface. This means that the device is able to teach 'relearn' TPMS sensors to the vehicle, read out any TPMS diagnostic trouble codes or display system-specific information, meaning it is able to handle all service tasks involving TPMS sensors.
The TPMS Pro is also optionally available as a print version which comes equipped with a docking station and integrated infrared data printer – perfect for mobile tyre fitters.
---
Want to know more? For more information, click
here
.