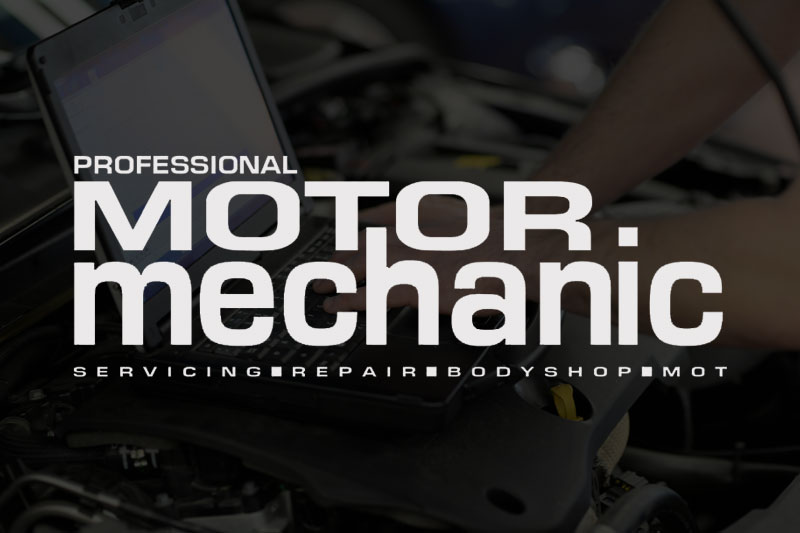 Michael Flensborg, Sales & Marketing Director for Remy Automotive UK, takes an in-depth look at the remanufacturing process required of a quality brake caliper remanufacturer.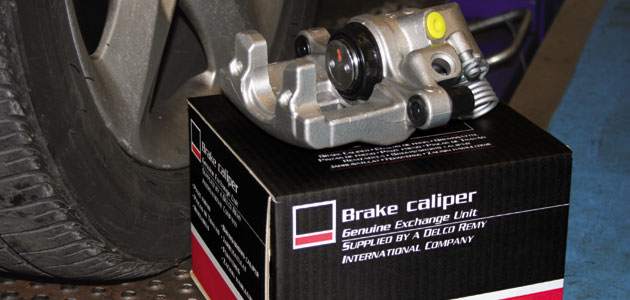 At Remy Automotive we genuinely believe that our remanufactured products – whether it be brake calipers, rotating electrics products or steering racks and pumps – are equal, if not superior, to the original OE product.
We can make such bold statements because, as a quality remanufacturer, there are occasions where we effectively 're-engineer' the OE product, eliminating many patent problems or faults that may have been identified in the original component design. Who better to identify these faults than the people who are analysing future models during inspection, prior to professionally remanufacturing them?
Take brake calipers as an example. There are three distinct means of transforming a worn out part back to a serviceable life:
Repair
A repaired unit is usually one on which a minimum amount of work has been carried out to rectify a defect and put the unit back into working order. Typically this will involve a replacement or repair only of non-working or worn-out components.
Recondition
A reconditioned unit is usually one in which any non-working components will be replaced – and the wearing components will be replaced if they've worn beyond a pre-determined limit. Typically reconditioned units have also been cleaned and cosmetically enhanced.
Remanufacture
With a truly professionally remanufactured unit, the component is 100% stripped into the individual base components, thoroughly cleaned, 100% inspected against OE standards, remanufactured and then re-assembled. All wearing components must be replaced and reassembled against OE specification. These units must then be tested in static and dynamic conditions to ensure a true quality product.
Improvements to original design
Product failures in remanufactured products can occur, not necessarily due to the remanufacturing process adopted, but rather due to an original design issue on the vehicle itself or the original part.
In some circumstances remanufacturers are able to re-engineer the design of the original part to improve upon its original performance. This may be something very straightforward, such as upgrading the quality of the replacement bearing over that fitted originally, through to boring out a section of original metal and replacing it with something more durable. The ability to carry out long term tests on any re-engineering work helps ensure that it is worthwhile and effective to carry out.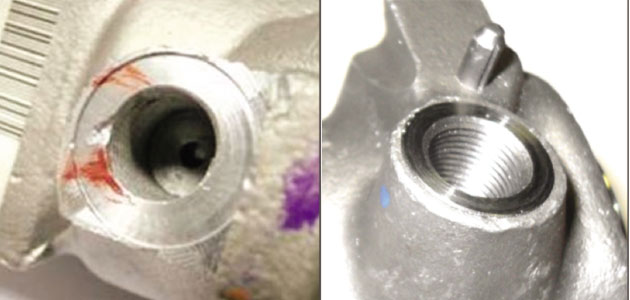 Fig 1 Before                                                                                   Fig 2 After
An example of the re-engineering work that Remy can carry out on brake calipers is repairing the inlet port. Returned cores sometimes have a damaged banjo face. Remy would inspect the caliper and repair the damage (as per Figs 1 & 2, on the previous page) ensuring the quality of the supplied remanufactured caliper.
With so much of the cost associated with remanufacturing set in labour costs, it is clear that there is scope to take cost out of the remanufacturing process by compromising particular parts. For example, simpler cleaning processes, quicker inspection processes, compromising on the quality of replacement parts and batch testing, rather than testing every part. 
MANAGING THE QUALITY
A quality remanufacturing process should be carefully controlled through an approved quality management system. This should incorporate:

All products must be remanufactured to ISO9001:2008 quality standard.

All products are produced to stringent internal quality standards.

100% wear part replacement with OE quality components.

Every unit 100% tested.

All processes are documented and are covered by visual work instructions or a written procedure.

All rejected products are inspected to determine the root cause of failure. Once the root cause is determined a corrective action report will be raised and implemented.

All products are traceable back to the tester/assembly cell.

 
HOW IS THE BRAKE CALIPER REMANUFACTURED?
For brake caliper remanufacturing, Remy adopts a number of processes to ensure that the remanufactured caliper is as good as it can be. These include:
■ Final inspection and brushing/cleaning area removed from the final assembly line to ensure no cross-contamination.
■ The final test for calipers is an air decay test – pressure versus time – to ensure caliper sealing is tested over a period of time.
■ Each part number has a specification sheet showing special features.
■ All calipers are built using a batch system to ensure traceability.
■ All calipers are identified by date code and part number for traceability.
■ Packed with assembly lubricants for easy installation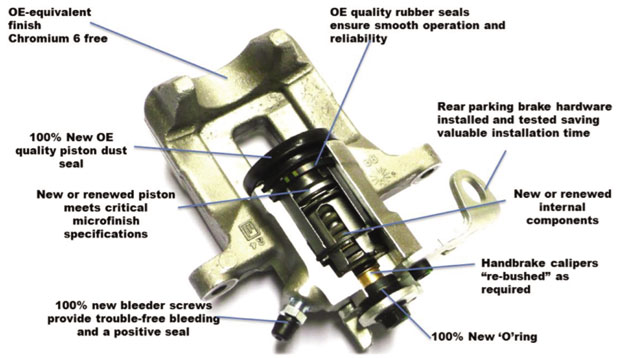 Remy strongly recommends that installers specify a name that they know and trust when buying remanufactured brake calipers to be sure that the quality of the part will live up to the name on the box.