---
Why a new 'spacer' tool, from Gates, is the ideal solution.

---
A new specialist tool, developed to resolve issues in the drive systems of certain Subaru applications, demonstrates the success of a philosophy designed to deliver 'total solutions' for professional installers.
The Gates GAT0001 Spacer Tool extends the OE drive system manufacturer's Professional Tools Range and its inclusion in PowerGrip Kits for specific models within the Subaru range is clear evidence of a manufacturer's solution developed as a direct response to problems experienced at workshop level.
The issue
Reports that Subaru models fitted with 1.5L, 1.6L, 2.0L, 2.2L & 2.5L petrol engines with manual transmission (Forester, Impreza, Liberty, Legacy and Outback models) were experiencing timing belt drive systems failures, drove Gates engineers to investigate the cause.
The problem was quickly identified and, once installer error was diagnosed as the principal cause, a three-step strategy was triggered in order to develop a suitable response for workshops.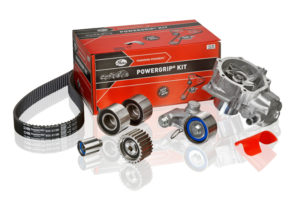 STEP ONE: Diagnosing the problems
The affected models are typically fitted with a timing belt guide plate directly above the crank shaft pulley, very close to the timing belt. If belt‐to‐cover contact is made, the subsequent friction generates excessive heat. The consequences are premature component failure and catastrophic engine damage.
OE manufacturer specifications call for 0.5mm to 1mm (.019" to .059") of clearance between the belt and guide plate, in order to prevent contact between these components. Gates engineers realised that in all cases where premature failures were recorded, installers had failed to appreciate the significance and importance of the size of the prescribed space specified by the OE manufacturer.
As part of the guide plate mounting procedure, a GAT0001 Gates Spacer Tool is inserted between the belt and the plate. After tightening the bolts, the re-usable tool can be removed thanks to a convenient 'extension tab', leaving the ideal clearance between the plate and the belt.
STEP TWO: Technical instructions
To aid technicians further with their understanding of the problem, Gates issued Tech Tip 013 GAT0001 – Gates Spacer Tool. This advised installers about both the issue and the Gates solution. Details were uploaded to GatesTechZone (www.GatesTechZone.com) and immediately circulated to thousands of professional installers who have signed up for the site's dedicated 'tech tip' e-mail service.
STEP THREE: A total solution
At this point Gates was able to put its approach to creating total solutions into practice. As such, PowerGrip kits for all Subaru models affected now include the Gates GAT0001Spacer Tool.
It's a move that gives installers the opportunity to complete drive system overhauls on these models more efficiently, while costs associated with expensive job rectifications are eliminated.
---
For further details about the
Gates
range of PowerGrip kits, including the GAT0001 Spacer Tool, click
here.