---
PMM has teamed up with Rotronics to deliver some top tips for outwitting the weather this winter and protecting your customers' batteries.
---
"The crucial aspect to nail down is that you know how you are going to cope with the battery charging needs of your customer throughout the winter," says Managing Director, Ken Clark.
Essential tips:
Make sure that your booster packs are charged and fully serviceable.
Make sure that the chargers and testers are fully operational, all the time.
Do a visual battery health check; look for signs of corrosion, excessive electrolyte staining and gassing.
Keep the batteries above 12.5V to prevent excessive deep cycling and risk of sulphation.
You should be charging at every opportunity.
The batteries should be in balance – 24V battery sets will only perform efficiently if both voltages and cranking amps are of similar values.
If you are using non-maintenance free batteries, be mindful when checking the electrolyte levels that if the battery is in a low state of charge, the electrolyte will be lower than you would expect.
If you top up a battery that is flat with electrolyte, there is a high risk that the battery will be overfilled and the cells expand as the battery takes on board current.
Never top up flat batteries with electrolyte.
Always charge first, providing that the cells aren't exposed.
The battery test and charge service
The Rotronics team always recommends that independent workshops offer a simple battery test and charge service for every vehicle that enters their premises. You can then identify all opportunities to support your customers and their vehicles with just a few simple steps:
Test every vehicle's battery using a diagnostic battery tester, as part of your winter inspection programme.
Notify the customer/owner of the outcome – i.e. the battery is:
a) Good – fully charged (no action required);
b) Good but requires charging (offer charging service);
c) Faulty – needs replacing (offer replacement)
Offering this service helps you show your customer how to prevent an issue before they are standing at the side of the road in the snow or rain. It also presents you with additional revenue streams by giving you the chance to identify a faulty battery and, more importantly, replacing it.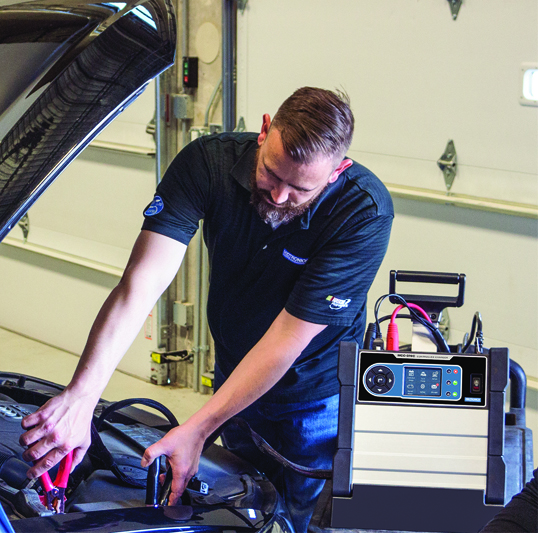 Rotronics works with independent workshops to deliver simple, effective battery and electrical system testing processes that integrate into everyday workshop practices. Each customer is given the expertise and know-how to maximise fault diagnosis, increase workshop productivity and customer service within their own workshop.
The programmes are moulded around each business, enhancing workshop productivity and fault diagnosis. Rotronics' technology can extend the life of a vehicle's battery, and identify those batteries that are likely to fail during the winter, enabling technicians to accurately diagnose and proactively inform customers of any impending defect or failure before it impacts on their vehicle. The Rotronics Battery Management Programme keeps a full record of use and allows workshop operator/owners to monitor and track opportunities and upselling potential as part of everyday service and inspection activities carried out by their technicians.
Ken Clark says: "Battery failures and non- starts create very expensive, time-consuming diversions at this time of year and can make the relationship with customers extremely tense. Most of the issues faced can be prevented with a little care, maintenance and preparation."
The Battery Management Programme from Rotronics has some simple steps to help you and your workshop team cope with the effects of winter. Rotronics says it is an industry leader in proactive battery maintenance and service solutions and has recently developed the Rotronics online battery information system, ROBIS, which is a web-based dashboard and reporting system that collects battery and electrical data.
---
The
Rotronics
team is giving a select number of independent workshops an opportunity to generate increased revenue and service benefits.
Click here
and complete the Enquiry information in the Contact page.