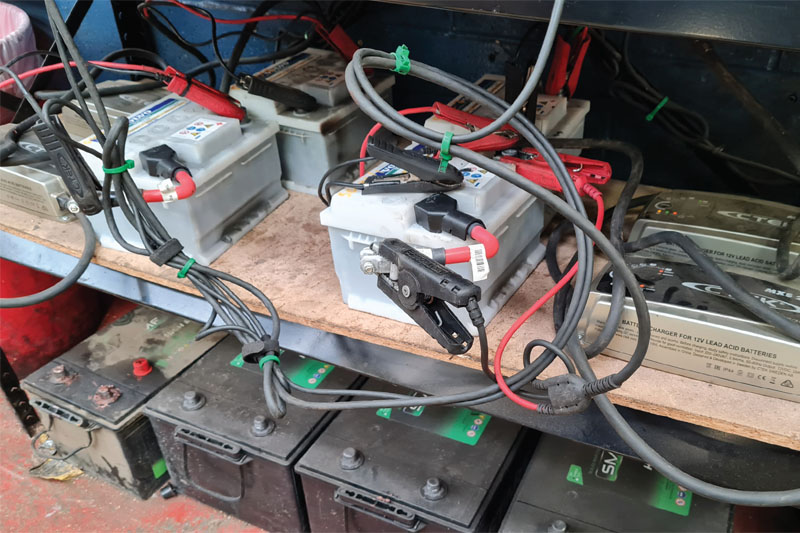 ---
Rotronics provides some essential battery management tips to ensure that you provide the best service to your customers and optimise all revenue opportunities.
---
Workshop battery checklist
Test the battery of every vehicle coming into your workshop
Do you have the correct diagnostic equipment so that you can test and charge every vehicle?
Do your testers accurately measure start/stop and EFB battery application?
Are your stock batteries on the shelf tested and charged to reduce sulphation risks?
Do you service and repair your testing and charging equipment or do you have broken kit lying around the workshop?
Keep terminals clear of dirt, oil and lubricants
Keep your power packs continually charged, for those emergency moments
Can your chargers supply sufficient battery support to support software updates?
With Lithium 12V batteries becoming more common in vehicles, does your charger have the capability to support these?
Have a chat with our experts if you have answered no to any of the easy workshop checklist points and seek our guidance.
Understanding the test results
When diagnosing a faulty battery, workshops can be faced with a customer not trusting or believing the requirement to replace it.
Having the ability to advise the customer in clear, simple terms that the battery requires replacement, even though it may still start the vehicle today, can be a challenge.
When presenting the customer with the diagnosis, and battery test printout, show them the variation in CCA (Cold Cranking Amps) from what the battery is rated to
If your tester measures RC (Reserve Capacity), explain to them what the negative impact of this component means to vehicle loads and start/stop applications
Share with them the battery voltage and, if below 12.4v, how sulphation build up may have attributed to its demise
Do it once, do it right
When it comes to battery testing, if you need to test, do it well and do it once. Testing the same battery multiple times will only cause confusion as the results are likely to vary; and this can lead to the wrong solution to a problem.
Consider the battery's use
You need to be clear about the application the battery is being used for. When testing a battery, is the battery original, or a replacement? If the latter, it may have been replaced with the incorrect battery capacity or technology for the vehicle. For example, a vehicle with start/stop must only be fitted with an AGM or EFB technology battery.
Proactive charging
It takes no extra time in a routine service to proactively charge the battery and it will not impact on service downtime. Click here for more information about top-of-the-range battery chargers.

Electrolyte check
Where non-maintenance-free batteries are used, check the electrolyte levels before you charge, making sure that the electrolyte is above the plate level within the battery. It only needs to be a couple of millimetres above the plate level. Then keep checking the electrolyte levels afterwards. It is important not to overfill so that you can avoid the risk of acid spillage and potential overflow.
Workshop equipment
There is so much to choose from and the old saying 'buy cheap, buy twice' is an important one to bear in mind when you are thinking about buying kit for your workshop. We keep an eye on the best quality technology that will provide excellent customer service and we can help you make the right decisions.
If any of your equipment has become faulty or may be showing signs of wear and tear. Click here and see if we can help you.
Hazards to avoid
When you change a damaged 'flooded' battery, take good care to avoid any electrolyte spill and that this is kept to a minimum. In good condition, batteries are sealed and generally will not be a danger.
It is always wise to be respectful when you handle them. Definitely do not drop a battery. Explosions are not everyday occurrences in workshops, but we hear too often about such problems in workshops, and the reason is generally due to poor maintenance or handling.
A 12V electric shock is not lethal but it pays to use considerable caution if you happen to be using any metal tools close to batteries, so that you can avoid short circuits and sparks.
Jump starts
Having to jump start a vehicle is not ideal, so find out why the jump start is needed in the first place. It really is worth conducting a comprehensive battery and electrical system test.
Check to see if any vehicle loads were left on. Is there anything unusual that will create a drain on the vehicle? Is the charging system working properly? It is best to have the answers to these questions before the vehicle is allowed to continue its journey.
---
Want to know more? For more safety tips from Rotronics, click
here
.