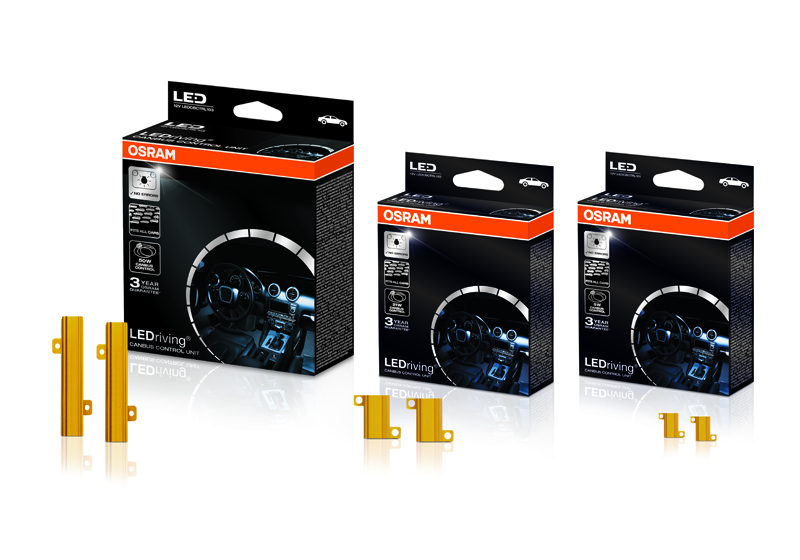 ---
Osram explains a simple solution to bypassing a vehicle's bulb failure detection system.
---
The fitment of an LED bulb to replace a standard filament bulb may cause the CANbus system within a vehicle to send a warning signal to the on-board computer to say that the bulb has just been replaced. There is a simple explanation for this: LED bulbs have a low wattage compared to standard filament bulbs.
As an example, a sidelight bulb (BS Ref. 501) would draw about 0.4A. If replaced with an LED bulb, the current draw would drop to below 0.1A and this would probably be seen as a failure. Some vehicle manufacturers use test pulses that are sent to the bulbs that are fitted (even when they are not lit) to check if the filaments are intact, while others check the current drawn when the bulbs are switched on. Bulbs that do not return the correct status (via the CANbus system) result in a warning light coming up on the dashboard.
No one wants the repetitive warning light flashing up on the dashboard as a result of fitting an LED bulb so the simple solution to fix this is the addition of an OSRAM LEDriving CANbus Control Unit, which serves as a bypass of the vehicle's bulb failure detection system. There are three kits in the range: 5W, 21W and 50W. The kit you require will depend on the type of LED bulb fitted and the fault or error message displayed. The 5W and 21W kits are designed for easy installation and are suitable for most vehicle models.
Each kit contains two controllers – one for each side of the car – and the controllers are connected across the wires that go into the bulb holder. The kit includes two simple snap on connectors per controller to make the electrical connections. The 50W kit is for use with Osram's aftermarket fit replacement LED DRL and FOG Kits. The addition of the kit should resolve the error messages on the dash and will retain the product's performance.
---