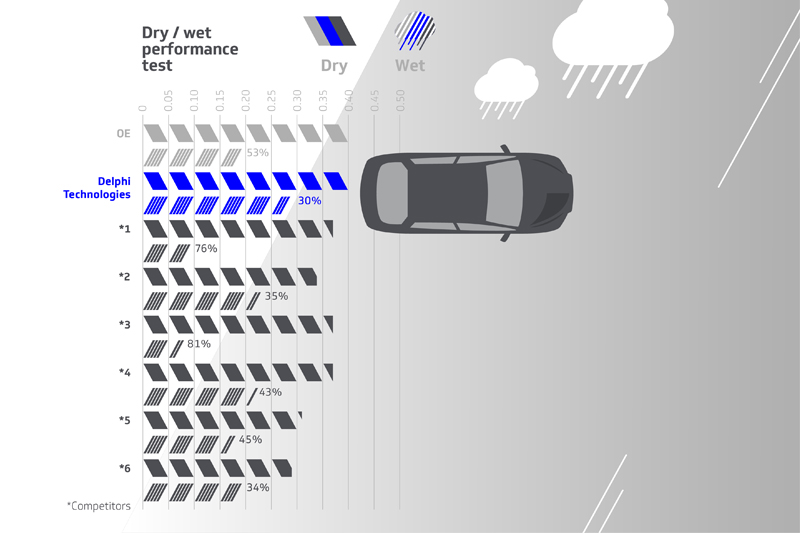 ---
Automotive technology is evolving, and with it, customer expectations are changing. When it comes to Delphi Technologies' brake pads, they've never had it so good, says the company. PMM finds out why.
---
Delphi's latest pads are said to stop faster, work more quietly and last up to 33% longer than alternatives, and they're also made from environmentally-friendly copper- free friction materials. But where does this advancement stop? One of the company's experts details the latest developments and provides some vital pointers for brake pad maintenance and problem solving:
"Just as asbestos before it, copper is being phased out of brakes as a friction material due to its harmful properties as a waste material – we need to stop it from entering the environment," explains Diana Visa, UK Category Manager Braking. "However, legislation isn't the main driver for Delphi – it is performance, safety and durability. With that in mind, we've developed a range that offers a stable friction coefficient for reliable performance and also outperforms and outlasts other aftermarket brands."
Key to the development of Delphi's latest range is the blend of performance, wear and noise. "We want to make brake pad selection an easy choice for technicians, and if the best-performing pad in a variety of conditions also lasts the longest, operates the quietest and offers environmental benefits, this provides them with an all-in-one solution," continues Visa.
Putting the brakes on testing
In tests using a VW Passat 2.0 TSi, Delphi's copper-free pads stopped up to three car lengths faster than alternatives. At ECE Regulation 90 speeds of 100mph, the Delphi- equipped vehicle stopped 4m ahead of the second-best brand and 17m ahead of the worst. "We were delighted with these results as they demonstrate tangible real-world benefits that help make road-users safer," says Visa. "For example, when braking from 100mph, a vehicle can still be travelling at 10mph over the final 4m and up to 35mph in the final 17m – that extra stopping power could be the difference between avoiding an accident or not." Going from dry to wet conditions, Delphi's pads also showed the lowest reduction in performance, with an average friction coefficient drop-off of 30% over six stops, compared to 34-81% from competitors.
"Performance is only one criteria that we have to meet – consumers are expecting ever- enhanced noise, vibration and harshness (NVH) levels, especially with the emergence of quiet electrified powertrains in passenger cars," explains Visa. "For the aftermarket, excess noise is one of the greatest comebacks for dissatisfied customers. So, we use only OE-quality shims, chamfers and underlayer technology to optimise noise reduction. Under SAE-J2521 noise dynamometer tests, which replicate real-world conditions, our copper-free pads came out top, registering a near-silent reading."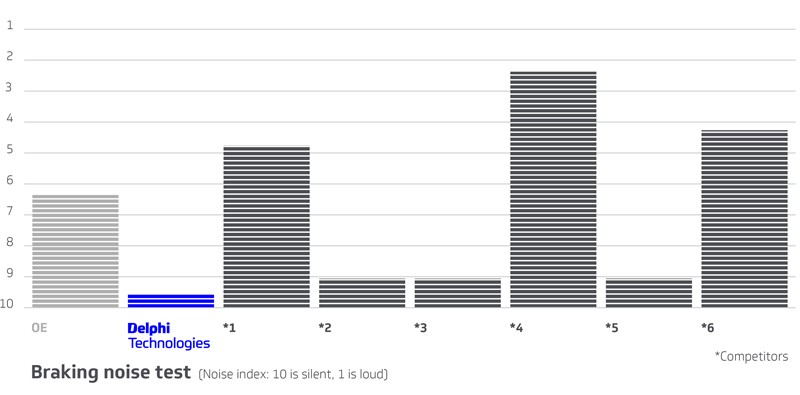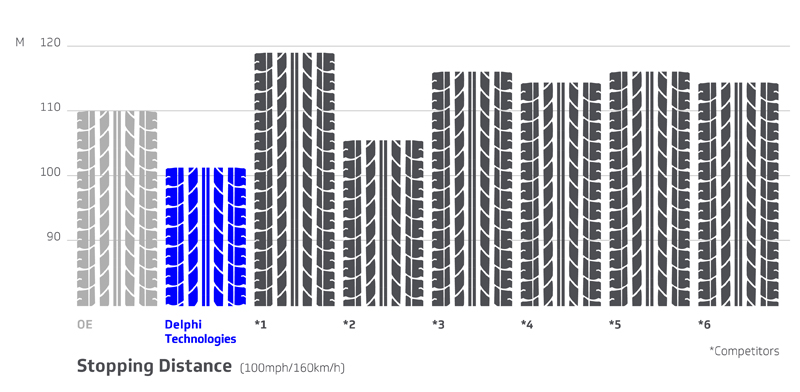 Making all the right noises
Whilst Delphi says its pads came top when it comes to eradicating noise, the company still recognises that this issue can be the bane of many a technician's life.
Visa explains; "Sound is vibration, so finding the cause of excess brake noise is as difficult as finding the source of turbulence within the braking system. The brake discs can act as a speaker for otherwise inaudible noise, which can make efficient diagnosis tricky. For example, excess corrosion, seized or bent location pins, partially seized calipers, built up dirt or brake dust, excessive runout, variation in disc thickness or simply worn brake discs can all cause vibration that manifests into excess noise. However, the act of braking can also trigger movement in steering components or transmission mounts, again resulting in excess noise.
"While there are a great number of factors that can influence noise, the brake pads are a good indicator of possible problems," Visa continues. "Tapered wear, for example, could suggest a damaged caliper. Also, look out for uneven pad wear, fluid leaks, piston damage or sticking caliper sliders."
While sometimes excess noise can be attributed to poor-quality pads, incorrect fitment or treatment of components is also a common issue. "To help make technicians' lives as easy as possible, we've launched a range of best practice installation advice videos that go through step-by-step processes to ensure correct and efficient fitment," concludes Visa.
---
Delphi's installation videos can be found,

here.