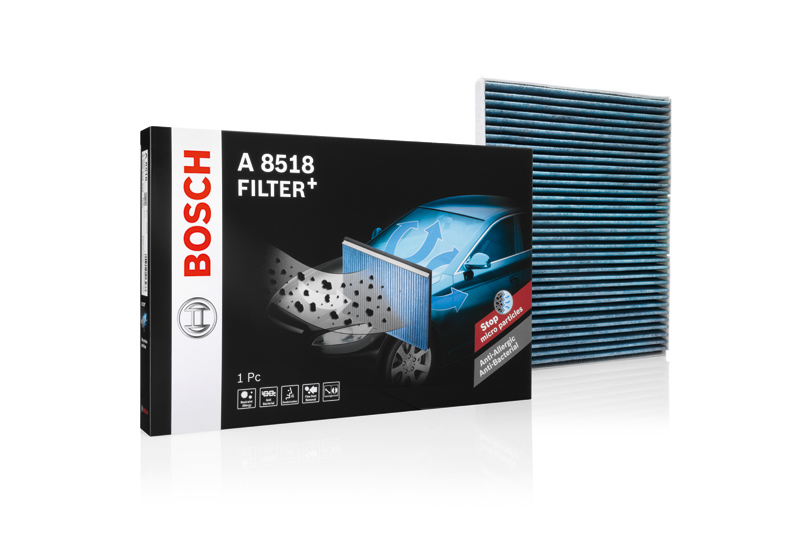 ---
The humble cabin filter is often overlooked. However, as the technical team at Bosch has found, it should be carefully considered when carrying out regular vehicle checks.
---
When it comes to cabin filters, it is important that they are changed relatively regularly; Bosch recommends that you change a cabin filter once a year or every 15,000km. This is for a number of reasons, including the following:
Reduced vision from fogged windows, resulting in reduced safety
Increased pollutant concentration inside the vehicle
Allergic reactions, e.g. sneezing, eye irritation, respiratory issues
Reduced cooling capacity of the air conditioning system, resulting from deposits on the evaporator
Which filter should you choose?
There are a wide variety of cabin filters available out there in the aftermarket. However, these don't always adhere to the same quality standards. To ensure that the latest cabin filter offering from Bosch, the FILTER+ range, makes the grade, the technical team at Bosch compared it to previous products (Fig 1).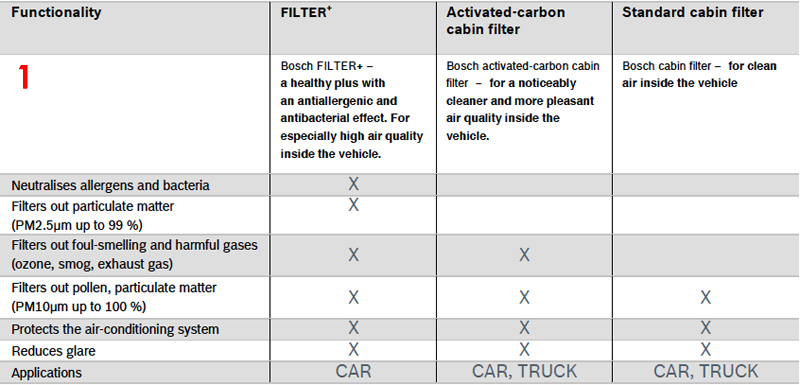 Common queries
For technicians who don't quite know the ins and outs of cabin filter terminology, there are number of questions that Bosch's technical team are asked regarding this particular product group.
1. What does high cabin filter efficiency mean?
Essentially, this is referring to the high particle separation rate combined with a decrease in pressure being as low as possible – over the complete cabin-filter service life. The decrease in pressure is the difference in air pressure before and after the filtration.
2. What does the pressurepulsation test indicate, and why is it so important?
Separation rate is an important quality criterion for vehicle manufacturers. A special DIN test measures the amount of fine dust particles of a certain size retained by a new cabin filter subject to a specific air pressure over a defined period of time. Each Bosch cabin filter has to pass this quality test.
3. Why is the decrease in pressure such an important factor for vehicle manufacturers?
For excellent functionality of all of the components of the air conditioning system, the decrease in pressure caused by the cabin filter – even by a clogged one – must not exceed a vehicle specific limit. Otherwise, overburdened fan motors could cause the failure of the whole air conditioning system.
4. What is the difference between woven and non-woven fleece?
Usually, the filter medium consists of a filter-specific combination of different layers. Often, both types of fleece – woven and non-woven – are combined. Non-woven layers are particularly suitable for efficient separation of large particles, and are often used for prefilters, for example. Woven fleece, in comparison, is particularly suitable for efficient separation of smaller particles.
---
To find out more about Bosch's FILTER+ cabin filter, click
here
.