---
Are you confident about fitting the right brand of AGM battery in your customer's start-stop car? The choice you make can have an almost immediate effect on the vehicle's fuel efficiency and will determine the overall length of the battery's life. It might be tempting to look at a cheaper, less well-known brand, under the assumption that all AGM batteries are the same. But the truth is that only a small number of battery manufacturers meet today's complex OE specifications, says Exide.
---
Many suppliers may offer an AGM product based on out-of-date designs, produced with cheaper technical features and lower grade materials, coming from less precise processes. Furthermore, stratification effects can occur, which can have a significant impact on the overall energy and in-cycle voltage stability within the start-stop operations.
What does it mean for your customer?
Unless built to withstand the high demand that the start-stop function creates, the battery will degrade rapidly and start losing its charge acceptance efficiency and state-of-charge within the first few weeks of use.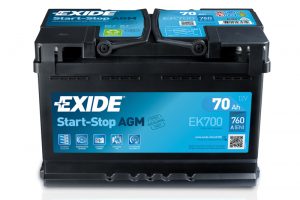 When insufficient energy is detected by the battery management system, the driver will soon notice that the engine does not stop as often or restarts almost immediately in stationary traffic. When this happens, the start-stop system will not deliver the fuel saving it promises. Another sign indicating that the battery is not holding steady voltage is when electrical devices such as the music system or windscreen wipers stop working when the engine is off.
One certain way to maintain customer satisfaction and protect your workshop's reputation is to trust Exide, says the company. This is your assurance of a top performance and high quality AGM battery, made by a leading OE battery manufacturer. Exide says it continuously improves its AGM batteries' performance, durability and safety features using best-in-class components, materials and manufacturing processes. Increased technical and performance targets set by the vehicle manufacturers have been successfully met by Exide to ensure all its battery types are compatible with the latest MS/electronics.
Owners of early start-stop cars will reportedly discover that Exide's latest start-stop AGM battery is a big improvement compared to the first generation OE battery originally fitted to the vehicle. The battery is claimed to deliver better functioning of the start-stop system during urban motoring, therefore generating greater fuel savings. When comparing Exide with what appears to be a 'bargain' AGM alternative, do not forget that the saving will be lost in higher fuel costs in the long run, concludes the company.
---
To request further details about the range of batteries available from
Exide, click here.