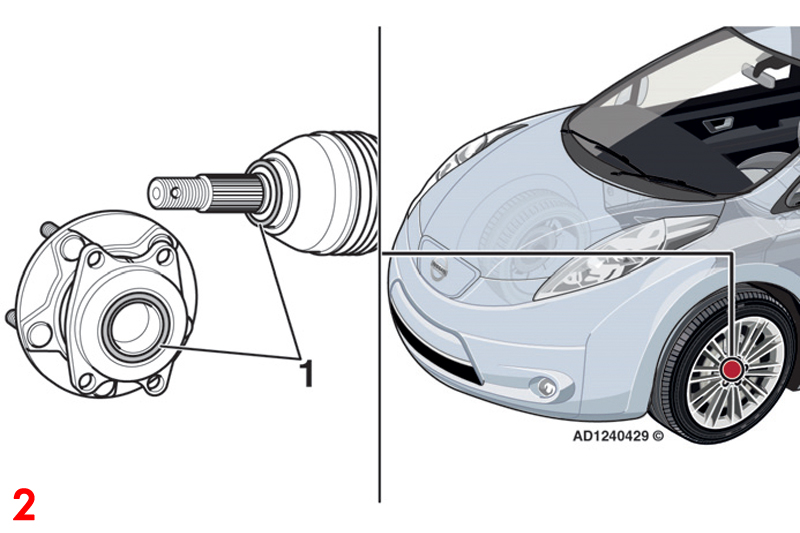 ---
In this regular column, Autodata's Technical Team share their fixes to common problems raised through Autodata's technical helpline, available to all UK customers.
---
Nissan Leaf – Cracking noise from front wheel area when pulling away
Fault:
A customer of ours has a 2013 Nissan Leaf suffering from a cracking noise from the front wheel area when moving off or changing from forward to reverse. During the road test, we heard the cracking noise, but have been unable to recreate the noise in the workshop. Have other Leaf owners reported this cracking noise?
Fix:
Yes, Leaf models up to 30/09/14 suffer from the fault you have described. The problem is likely to be caused by movement between the driveshaft and the front wheel bearing. Remove the driveshaft from the front hub, and mark alignment of the front wheel bearing housing to the hub carrier. Remove the front wheel bearing housing from the hub carrier, and clean all mating surfaces. Apply manufacturer specification grease to the contact surfaces of the driveshaft and front wheel bearing (Fig 2.1). Refit the wheel bearing housing 180° from the original position, and tighten the retaining bolts to the correct torque of 80-95Nm. Refit the driveshaft to the front hub, fit a new driveshaft nut and tighten to 100-120Nm. Repeat the procedure for the opposite side.
---
For more information, click
here
.