VW Golf and Polo 1.2 & 1.4L models; How to change the air filter
The MANN+HUMMEL produced OE air filter housing for 1.2L and 1.4L VW Golf and Polo models contains the MANN-FILTER air filter C 27 009. The air filter housing features an innovative radial seal and hidden screws that are inserted through the filter element itself. Replacement of the filter can be carried out by using the following steps:
1. The upper part of the housing is fastened to the lower part by four clips (a) and two screws (b).
2. Filter element C 27 009 can then be changed as follows: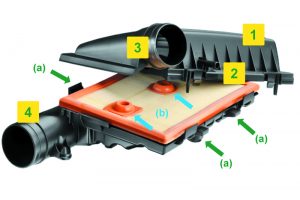 a) Remove the hose (2) for the crankcase.
b) Pull up the whole housing (1) to remove it from the ball pins.
c) Release the hose clips (3) and (4) and pull out the air hoses.
d) The housing (1) can now be completely disassembled. To open the housing, release the four clips and loosen the two screws between the upper and lower parts of the housing.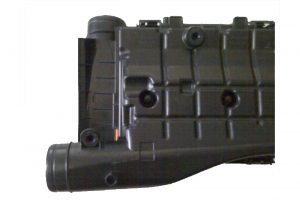 e) Carefully remove the used filter, and replace with a new C 27 009, ensuring the filter is properly located in the housing.
f) Reverse the procedure above to reassemble.
3. Make sure you also observe the maintenance instructions of the VM. The sealing integrity of C 27 009 inside the housing is achieved by the OE approved radial seal design. The sealing contour ensures optimum sealing, preventing contaminant bypassing the seal and entering the engine.
For further information on the range of air filters from Mann+Filter, click
here
.