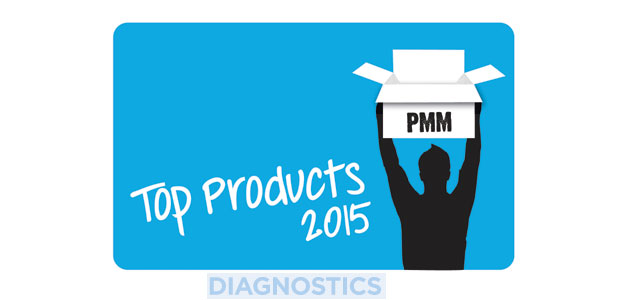 The awards, selected on the level of interest and enquiries generated by PMM's 60,000+ readership, are a great reflection on those manufacturers and suppliers that have made a real difference to the independent garage technician's ability to maintain the high standards expected of modern day servicing and repairs – whether this is in the form of innovative parts or tools, fault-finding equipment or garage aids such as technical data, posters and literature.
The winners in the 'Diagnostics' category are as follows:
Delphi – YDT-35 Common Rail Injector Tester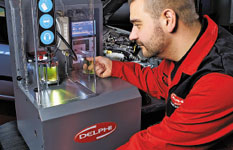 So often the domain of the 'specialist', diesel injector testing is now a service that can be offered within the confines of your independent workshop thanks to Delphi's YDT-35 Common Rail injector test solution, launched earlier this year.
The unit combines an electrical injector test with visual spray pattern checks and, by utilising a simple seven step process, the technician can identify failed individual injectors in less time than it takes to make a cup of tea.
Yuasa Batteries (UK) – Yu-Fit Tool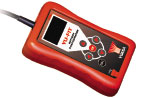 While battery replacement was once a fairly straightforward 'fit-and-forget' task, modern day battery management systems (BMS) have made electronic intervention necessary. Don't fear, however, as the Yu-Fit configuration tool has come to the rescue.
Once the battery fitment is complete, the tool – powered by the OBD socket – takes just a few minutes to reset the ECU and clear any associated fault codes. Its simple use means that battery fitment can be undertaken competently – even by less experienced technicians.
Pico Technology – 4425 4-Channel Oscilloscope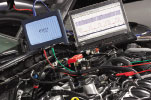 It's not by chance that Pico has established a reputation as 'the daddy' of oscilloscope suppliers to the automotive trade, and this latest generation 4-channel scope further endorses that fact.
With the capability to capture 400 million samples per second, it's five times faster than previous versions, while a host of other updated features and functions ensure that technicians experience the best of both worlds: high speed and long capture times.
Texa – TPMS Diagnostics Tools

To cater for the increasing number of vehicles fitted with Tyre Pressure Monitoring Systems (TPMS), TEXA released three new diagnostic solutions earlier this year in the form of the TPS, AXONE S (with TPS utility) and the TPS KEY.
These innovations are able to diagnose malfunctions in the pressure monitoring system and dashboard warning light system, as well as handling all the tyre-related jobs that workshops have to deal with on a daily basis, such as tyre changes and wheel rotations.