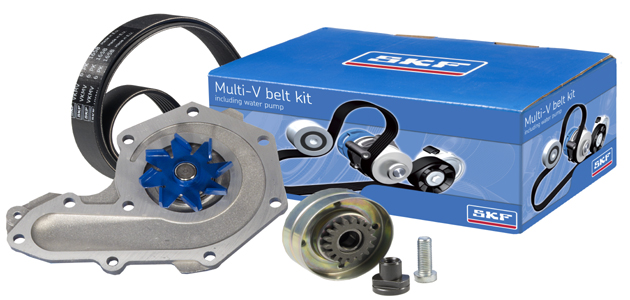 SKF has significantly improved its European product market coverage over the past 12 months while at the same time developing innovative technical tools to help customers meet market demands and facilitate correct repairs.
The product range expansion and new editions include:
Extended European coverage: over 700 products have been added to the European market range bringing the total assortment to over 9,000 products;
Over 300 engine products, bringing the total European coverage to 78% including over 90% coverage for timing belt kits and water pumps;
6 new multi-V belt kits with water pumps, which brings the total range to 27 kits;
25 new timing belt kits with water pumps, bringing the total range to over 200, which covers more than 70% of the car parc in Europe.
Asian range focus: over 270 new kits for Asian cars including a wide assortment of multi-V belts for Asian engines, bringing the range coverage in the European car parc to 78%;
Three new driveline tools to help simplify and speed-up boot fitting for vehicle technicians: two clamping tools (VKN 400 & 401) and one expander tool (VKN 402);
New boot kit packaging with a horizontal opening that is easier for technicians to open and takes up less space on distributors' shelves;
A 20% increase in the SKF suspension range which now includes 231 top mount kits and 75 protection kits.