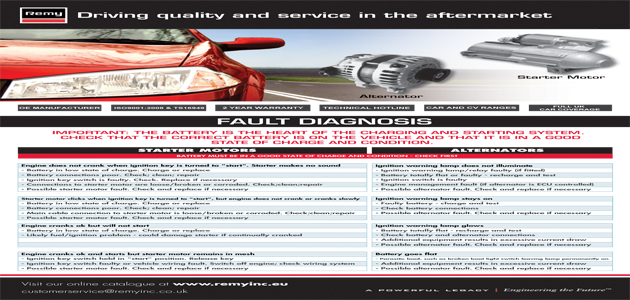 Remy Automotive UK has announced the introduction of a further 87 new-to-range starters and alternators for popular vehicle applications.
This increases the total number of part numbers in the Remy range to over 4,500, covering a total of more than 35,000 vehicle applications. There are 48 new alternators and 39 starter motors added to the range, including HD applications. To simplify selection, Remy has highlighted the part numbers which it believes distributors should definitely be stocking.
New introductions to the range for popular vehicle applications include the Ford Mondeo IV, the Vauxhall Astra J, the VW Golf VI and the Hyundai i40. On the HD side there are Iveco Stralis alternators from 2006 all covered with three part numbers for different pulleys.
"This extension is an essential part of our ongoing range development to create strong sales opportunities for the UK Aftermarket by ensuring that the Remy range offers the best car parc coverage in the UK." says Michael Flensborg, Sales & Marketing Director of Remy Automotive UK.
All Remy rotating electrics products are of the highest quality, immediately available and come with a 24-month warranty.
Details of the Remy rotating electrics range are available from customerservices@remyinc.co.uk