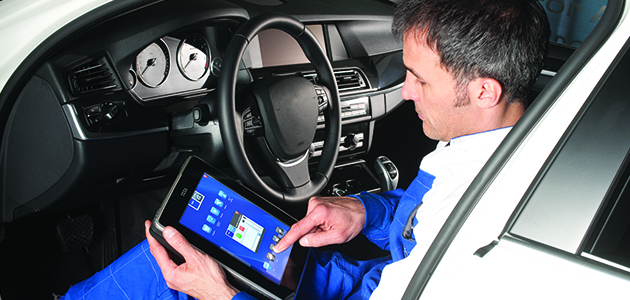 Choosing the right diagnostic tool can sometimes be a nightmare, with such a variation of options available to select from.
I've always stuck to the simple rule that you need to decide what best suits your needs: whether it is an entry level unit that can quickly read ECM fault codes or a much more advanced tool.
With the latter, the number of functions and amount of information you can expect is likely to be far higher, with technicians able to access a large number of control modules, rather than the engine management system.
This is particularly significant due to the ever- increasing number of systems that are controlled electronically – and thus have control modules – which communicate with each other via CAN Bus. When faults occur, the systems have to be interrogated to find and rectify the issues, which sometimes leads to the programming of new components.
When I was asked to test the Axone 4 diagnostic tool from TEXA I jumped at the chance, as I've had the opportunity to test previous models in the portfolio and well know that these tools certainly fall into the advanced category – plenty for me to explore and play with then.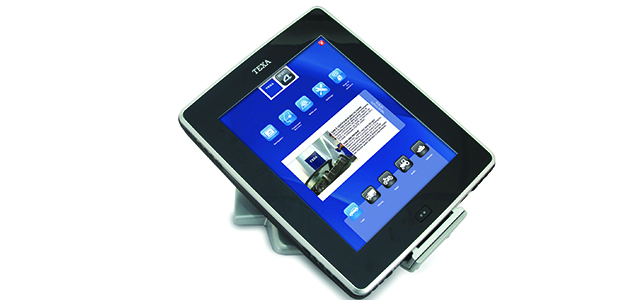 Instant impact
In terms of aesthetics the Axone 4 is a touchscreen tablet, which has good, clear visibility – even in bright light – with high quality graphics. The display can also be used in portrait or landscape format for ease of use for the operator.
Most noticeable on first impression is its strong, robust appearance. It has been designed to withstand heavy blows to the point of being able to drop it on the floor with no ill-effect. It is also waterproof, should you be clumsy enough to drop it into a puddle! This is due to the fact that the Axone 4 is a solid state unit with no moving parts. Being a solid state also reduces battery consumption and invokes cooler running.
The tool doesn't require any cables to connect to the vehicle, but communicates via Bluetooth using the Navigator nano interface, which plugs into the 16-pin OBD connector. I particularly like this feature, as it allows you the freedom to operate the Axone 4 inside the car with no trailing leads, which can be a nuisance if they get caught around your feet.
This sometimes results in a disconnection from the vehicle which can only be rectified by laboriously reconnecting and getting back to where you were.
Furthermore, this new found freedom allows you to operate the Axone 4 in the comfort of your office. There is an internal Wi-Fi module to connect to the workshop network, allowing downloads of updates and access to online services, such as technical support.
It also allows smartphone connection using Wi-Fi, allowing access to TEXA's online service of remote assistance and resolved faults – a plus for mobile technicians who may be on a breakdown callout. Another great feature is a VGA camera, enabling the capture of detailed repair procedures and allowing the user to save specific information for future reference and library building.
Simple to use
Use of the Axone 4 is very simple: all operations are carried out on the touchscreen and it has a drop-down keyboard, if necessary. You then select the vehicle from the impressive and vast coverage, either by the usual list selection or by entering the chassis number. The list of functions can then be opened up, which varies in coverage from vehicle-to-vehicle.
As with all diagnostic tools, there are strengths and weaknesses according to the manufacturer, but in the relatively short time I had the Axone 4, I was more than impressed by the coverage. Using the touchscreen was easy and the speed of communication was very fast.
The functions available include fault reading and clearing from a large number of systems – again dependent on manufacturer – including engine, gearbox, ABS, SRS, instruments and A/C. Other features include service resets, live data, activations, programming, key coding and adjustments.
There is a vast technical data section, which gives information of how electrical and mechanical systems operate, assisting diagnosis and repair. The addition of wiring diagrams to aid vehicle repairs and vehicle data provided by Autodata means that users should have very few occasions where they're left scratching their head.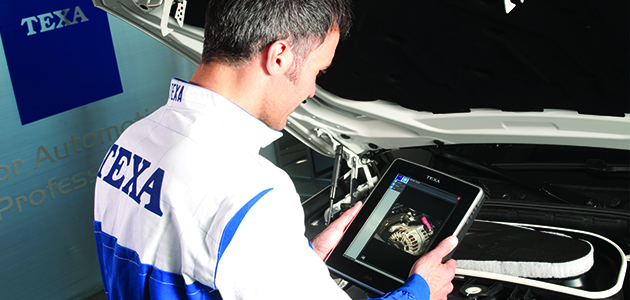 Put into practice
They often say that the proof of the pudding is in the eating so I made sure that I turned to the Axone 4 as the first port of call for any jobs entering my workshop that may have required diagnostic intervention. The results were impressive.
One particularly interesting example was when I managed to access a Smart car and reset the instrument panel to mph, despite the customer trying unsuccessfully at three other garages. Other jobs completed using the Axone 4 included a DPF regeneration on a Vauxhall Vecta and rear brake pad fitment on an Audi A3 with electronic parking brakes.
In addition, it also came to the rescue when we had a visit from a Ford Fiesta with its engine management light on. I read the fault codes, which gave a Lambda sensor fault, and this was further confirmed by reading live data. I then fitted a new sensor, cleared the fault, ran and retested the vehicle – all OK and working fine!
Next, I encountered a Renault Trafic 2.0 dCi, 2010 model, which was suffering power loss and the MIL light was on. Again I read the fault codes and found that there was a fuel pressure regulation fault. I changed the fuel filter and cleared the fault, however the problem was still present. I then carried out an injector leak-off test and all was OK.
This led me to the fuel pressure regulator on the pump. Renault informed me that the regulator wasn't available and needed a new pump so I contacted my reliable local diesel specialist, who duly supplied me with a new regulator the next day. Once fitted, the vehicle was run and tested and the fault codes were cleared again – job done!
With the use of the Axone 4 and some routine diagnostic principles, I had a satisfied customer on my hands who otherwise might have ended up with a costly fuel pump if he had gone directly to Renault.
VERDICT: Having used the TEXA Axone 4 on many different vehicles I can safely say that it is a comprehensive, powerful diagnostic tool that boasts some great improvements over previous versions. Highly recommended!