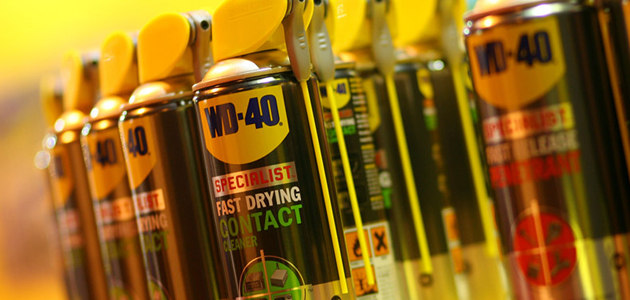 A brand new product range from the multi-purpose maintenance brand – WD-40 – has passed a Wolverhampton garage's test drive with flying colours.
The WD-40 Company recently introduced its WD-40 Specialist range, designed specifically for industrial and more specific trade applications, helping motor mechanics and automotive professionals solve even more problems.
The original WD-40 Multi-Use Product has been getting jobs sorted since 1953 and has become synonymous with automotive applications becoming the mainstay of garage and motoring professionals.
Now the new Specialist range ensures 'a tool for every job', with a series of products especially designed for the more demanding tasks that need to be done just right.
Tony Morris has run a family owned garage in Wolverhampton for the last 30 years. He recently put the entire Specialist range to the test – and declared them a winner on even the toughest jobs.
"I particularly liked the Smart Straw, which allows you to spray two ways to get right into engines for a more precise application, while using the wide spray hits larger areas," said Tony.
"This was really noticeable when using the Fast Acting Degreaser which certainly lived up to its name – it was really fast at removing grease, dirt and oil and quickly had equipment running smoothly with no messy residue.
"My other favourite was the Fast Release Penetrant – you wouldn't believe how corroded and rusty  some of the engines are that we have to work on. But this product was brilliant, quickly releasing the stuck parts and getting rid of surface grime and rust. Again the Smart Straw made it really easy to apply."
Tony and his team of mechanics managed to try out every product in the Specialist range during a busy working week, and they all agreed it would be a welcome addition to any garage.
"Sometimes a single lubricant doesn't have every trick in the book, so more than one is needed; we tried all three in the range and they were brilliant at their specific jobs.
"I would most definitely recommend WD-40 to other garages as a true problem solver."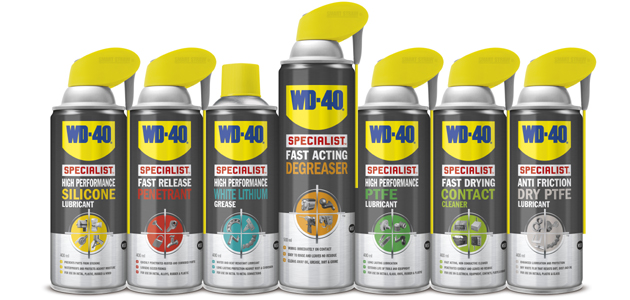 Products in the WD-40 Specialist range are all NSF registered and are made from advanced formulas designed specifically for trades and industry.
WD-40 Specialist Assistant Brand Manager, Kieron Roberts says: "The new WD-40 Specialist range has been designed with professionals in mind. Just like WD-40 Multi Use product the products within the range consistently deliver above expectation performance against the competitors whilst instilling confidence that the job will get done right, first time."