---
OSCA diagnostic tool.
---
What is OSCA?
OSCA is a tool that connects you to a network of live technicians. The remote technicians are ready to help complete diagnostic work that your current tools can't, or there to help when something isn't going quite right.
How is work completed?
OSCA connects to the OBD socket of the vehicle and then into a compatible Android tablet. Using an internet connection, you can communicate with a live technician that takes control of the vehicle. They can complete a number of tasks, as and when you ask them to, such as program a tow bar, look for faults, or pull a security PIN. Work can be completed with very little interaction from you.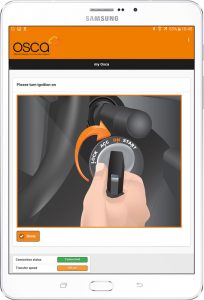 Why is having OSCA so important?
A vehicle leaving your garage with work incomplete can be frustrating for both parties. Repeat custom and customer recommendations are a business' best form of marketing. By offering additional services and completing the work required on a customer's vehicle, you reduce lost custom and increase recommendations.
Will OSCA work on new vehicles?
OSCA has been developed with the future in mind. Cars are changing rapidly and tools need to keep up with these changes. OSCA is an online based tool so updates are completed in the cloud meaning that you don't need to do anything but pick up the tool and get to work.
What jobs can OSCA complete?
OSCA is always changing, with new services being added on a regular basis. The OSCA website has a live searchable application list that boasts over 1,200 jobs. You can see live prices and additional information such as when you may need a security PIN or genuine part to complete a task.
Key features
No complicated updates
No complicated procedures
Constantly updated in the cloud
Like having an extra technician
Cost effective
Eliminates the need to wait for third party programming
Opportunity for a second opinion
Live chat with technicians
Can I see OSCA in action before I buy?
OSCA has a demonstration car tucked away in a garage waiting to show you OSCA's potential at MECHANEX in Coventry 11th & 12th October. OSCA has teamed up with Tecnodiagnostics to show live demonstrations on stand!
---
The show is completely free to attend and tickets can be booked
online
, or by calling
01923 237799
. For more information follow
@MECHANEXShow
on Twitter, or visit the
MECHANEX
website. If you are unable to make it to the show book a demo with
Tecnodiagnostics
here.