---
PMM discovers the reasons behind the newly designed Cataclean bottle.
---
There's something familiar, almost nostalgic, about the bitter-sweet smell found in many workshops and garages across the country.
It's that heady mix of oil, petrol, grease and all the other chemical odours permeating from the vast array of canisters and containers filling the air with that evocative aroma.
Assuming you're a lover of a chemically- perfumed ambience, there is an unfortunate downside to this typical workshop waft. The presence of the chemicals in the air is a likely indication that a certain amount of product is escaping from the bottles and barrels keeping the contents safe and is evaporating, quite literally, into thin air. Ultimately, this is something that can have a negative impact on your bottom line.
To combat this evaporation conundrum, Cataclean has recently spent over £30,000 in redesigning its bottles to eliminate any taint or undesired volume loss. Cataclean, a patented fuel and exhaust system cleaner, will now be sold in new stronger and lighter bottles, with an improved three-layer design and Polyamide six barrier-layer to eliminate any possible evaporation. The new bottle has been certified for group II SG 1.2 freestanding approval, making it unique in the automotive sector and Cataclean has registered the design for the new bottle and tooling.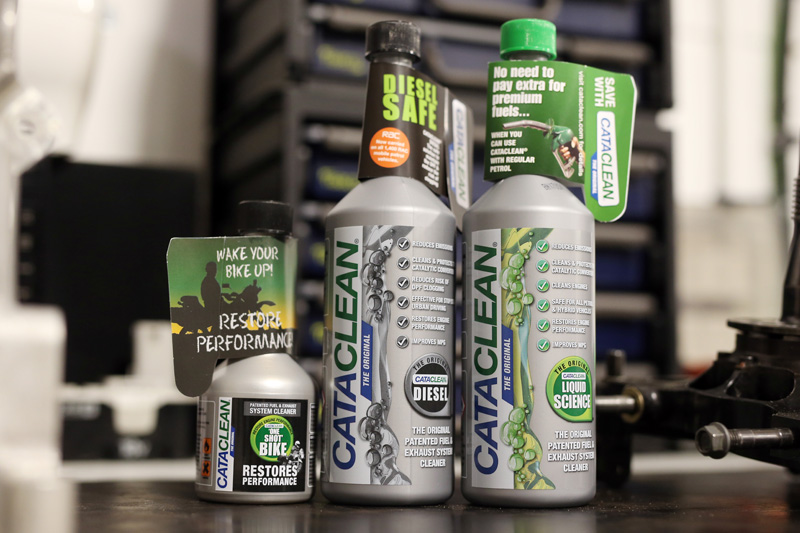 Having identified the coextruded technology whilst developing its 3 and 5L bottles in 2015, the team at Cataclean knew this could be the solution to the common evaporation issue experienced with many bottled products. They approached the COEX bottle distributor, Nexus Packaging, and discussed the possibilities of developing a standard COEX bottle (500ml) that could be used in all markets. The project took around nine months from start to finish and the new COEX bottles are now sourced from a supplier in France.
"We'd worked with Nexus Packaging to identify the new COEX technology and the company in turn put us in touch with the new French supplier Tournaire," commented Graham Fraser, Corporate Development Director. "We pride ourselves on building strong partnerships with our suppliers and we still work with S Murray & Co which has produced our bottles since 2011 and continues to produce the 250 and 150ml bottles. However, we needed to expand our partnerships in order to utilise the new COEX technology."
In addition to improving the quality and effectiveness of the bottles, Cataclean also revamped the bottle's label and colour- coding. Bottles of Cataclean Liquid Science, for petrol engines, now have a green cap and predominantly green label, consistent with the colour-coding convention for petrol pump nozzles in garage forecourts. Bottles of Diesel Cataclean also follow the fuel pump convention and now have a black cap with black and grey labelling. The new packaging makes it easier to spot the difference between the two products on the shelf.
---
For further information about the range of engine care products available from
Cataclean
, click
here.