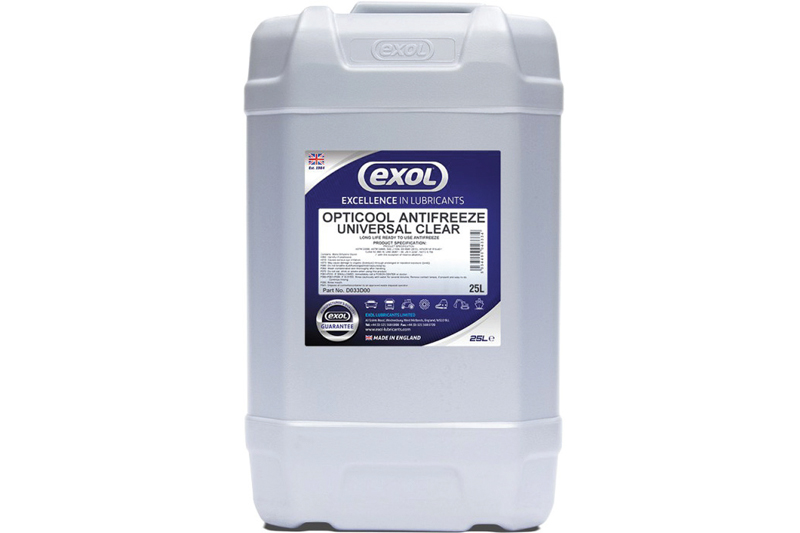 ---
Exol Lubricants is encouraging technicians, garages and workshops to prepare for the winter season by stocking up on its leading Antifreeze range as temperatures drop.
---
The comprehensive range of Antifreeze coolants provides corrosion protection and long service life. The range includes premium grade hybrids, OATs and IAT technologies. The complete Antifreeze range is made up of three collections: Concentrates, Ready To Use and Universal Top Up.
Exol's Concentrates product category consists of the Opticool Antifreeze HD Green, Opticool Antifreeze HDX Blue Green, Opticool Antifreeze SOAT Lilac, Opticool Antifreeze Red and Opticool Antifreeze Universal Clear. These antifreeze products have been developed from inhibitor technology to respond to the evolving technological development of cooling systems that are used in modern vehicles as well as offering a long coolant operational life.
The Ready To Use range includes the Opticool Antifreeze Blue 50%, which is a universal engine coolant suitable for all year-round usage. This product is pre-diluted and is to be used as supplied. The collection also includes the Opticool Antifreeze Red 50%, which is a pre-diluted, ready-to-use ethylene glycol-based engine coolant, using Organic Acid Inhibitor Technology and is free from nitrites, amines, phosphates, borates and silicates.
---
For more information, click
here
.