The E/START600 12V Electrostart Batteryless Power Starter, from Sealey Tools, is unique because doesn't have a battery inside.
Instead, it runs with ultracapacitors (also known as supercapacitors or supercaps), and patented electronics which maximise a discharged battery's voltage.
The E/START600 requires just five volts to jump start a vehicle. Simply connect it to the vehicle's discharged battery and the unit will display the battery's existing voltage.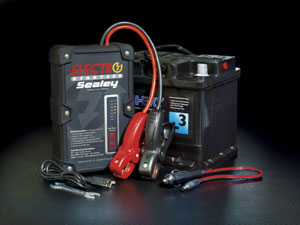 It then draws power from it and energises itself fully within two minutes before pushing full power safely back through the starting system, jump starting the vehicle.
The ElectroStart delivers 300A of starting power, enough to start a 3ltr petrol vehicle or a 2ltr diesel vehicle.
The unit also incorporates a 'glow' feature making it suitable for starting diesel vehicles in cold weather.
If the discharged battery is holding less than five volts, the ElectroStart can be pre-charged by connecting it to any healthy 12V battery from another vehicle, or via the supplied USB charging cable or 12V accessory lead.