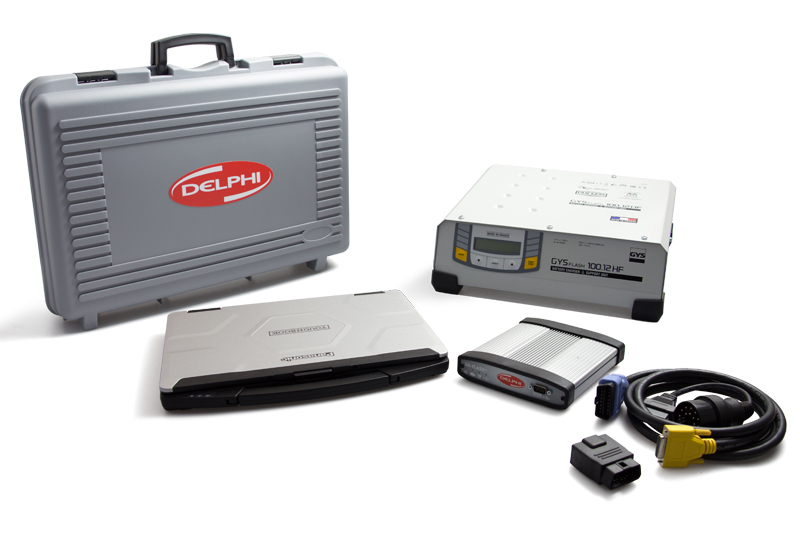 ---
J2534 legislation, which dictates that vehicle manufacturers must make vehicle data available to the aftermarket, may have been in place for almost a decade, but until recently the potential of this opportunity has gone largely untouched. The main barrier for independent workshops has been having the right tool to access this data and also the technical knowledge as to how to use it.
---
Burton Motor Workshop invested in Delphi's DS-FLASH tool in 2017 and they are now enjoying the full benefits that pass-through diagnostic capability can offer.
Access all areas
"We found that the functionality of our old diagnostic tool was getting further and further behind with each manufacturer update and identified that Pass-Through was the way forward; it's clear that if you are going to specialise in specific manufacturers then you need to be operating at dealer level," explains Mike Rowland, Burton Motor Workshop senior technician. "With the old tool it got to a point where we were losing work and having to send it elsewhere, but since adopting the DS-FLASH it has been pulling in work from dealerships and other garages that have failed to accurately diagnose problems."
"We've had three diagnostic jobs in on one day where we have been the second or third garage to see the vehicle as correct diagnosis was proving impossible," agrees Rowland. "Our pass-through capability gives us the edge and we were able to quickly find the faults that others had missed. By providing a swift service that actually solves their problems, we are confident that these customers will remain loyal and we have already seen our reputation growing by word-of-mouth."
Rowland explains that DS-Flash has enabled the company to expand its breadth of specialisms where it was previously becoming harder to do so. "We were in danger of going off the boil due to the complexity and cost of our old diagnostic tools," he explains. "Each vehicle manufacturer wants the PC that you use set up in a different way, so you end up needing a laptop for each brand that's serviced. This causes added complication and then there's the cost of having multiple PC's. DS Flash has helped us to overcome these issues. Take BMW work as an example, we simply hook up ISTA software to the pre-configured Flash PC and utilise a dealer-level interface. Software updates are a lot faster, everything feels generally quicker and set-up is easier."
Support
The company has found that it is not only the ease of set-up for DS-Flash that eases workflow, but also the technical support provided by Delphi Technologies.
"When we had a Java update go wrong the vehicle manufacturer itself wasn't sure what the cause was – it sent out instructions with a remedy solution, which several of us attempted without success over the course of a few hours. This meant that we couldn't carry out any further diagnostic work for this brand," explains Rowland. "We called Delphi and they managed the situation for us by contacting the manufacturer directly. This provided a solution to the problem in only a couple of days. It would have been impossible for our team to have got to the bottom of the problem or to have even invested the time searching."
"The same thing happened with another major vehicle manufacturer; the Delphi hotline provided a quick-fix," adds Atkinson. "Having the help behind the tool is so beneficial. If you're struggling for a connection or if there's something you don't quite understand, the Delphi hotline can dial into your computer, talk to manufacturers for you or get you back online – it means that technicians don't have to spend hours or even days messing about with kit that takes away from time that could be spent on customer vehicles. It can help streamline processes and workflow."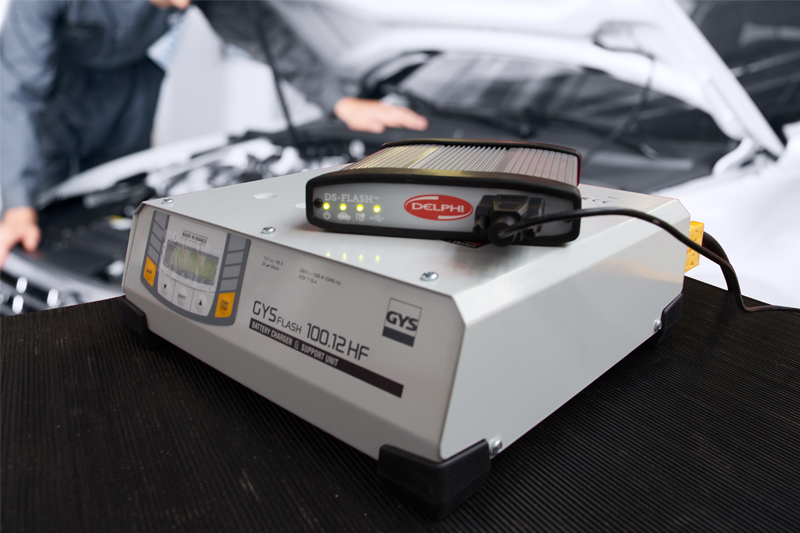 Flexibility and learning
While Pass-Thru diagnostics provide the access and DS-Flash empowers independents to take advantage of J2534, it can only build on existing expertise; a fundamental knowledge of diagnostics is essential to unlock the full potential.
"You need to be capable if you're going to attempt dealer-level diagnostics," agrees Rowland. "Don't forget your basics, and you have to have a good understanding of faults. The DS-Flash is not going to say, 'this is wrong, that is wrong, replace this'; you still have to go through specific processes. We are often the second or third port of call, so customers have often already parted with money and are becoming frustrated – it's important to put them at ease quickly by explaining what we are going to do and why."
"Sometimes you have to explain the diagnostics process first," says Atkinson. "Otherwise a lot of customers will assume you'll have the answer immediately, and that's not the case."
Combining the DS-Flash with a pragmatic approach enables the diagnosis of incredibly complex issues, which can significantly enhance customer loyalty, confidence and workshop profile as a trusted expert. "A customer recently came to us with a hybrid vehicle direct from their main dealer and using the DS-Flash we pinpointed a particular cell in the battery that was faulty," explains Rowland. "We took the battery out, ordered a new cell and fitted it. There are 20 cells in each battery and in normal use it would have been impossible to correctly diagnose without the DS-Flash. If misdiagnosed, the customer could have been charged up to £7000 for a new battery rather than replacing just a single cell.
"Today, it is vital that you can offer a complete range of services, from in-depth diagnostics to servicing and MOT; being able to fix in-depth faults is a massive advantage," he concludes. "If you give a customer an opportunity to go elsewhere, they receive a decent service and the price is right, the chances are they will stick with that garage. DS-Flash gives you the opportunity to be that garage that attracts – and retains – new and repeat customers."
---
For further information about the DS-Flash from
Delphi, click here.