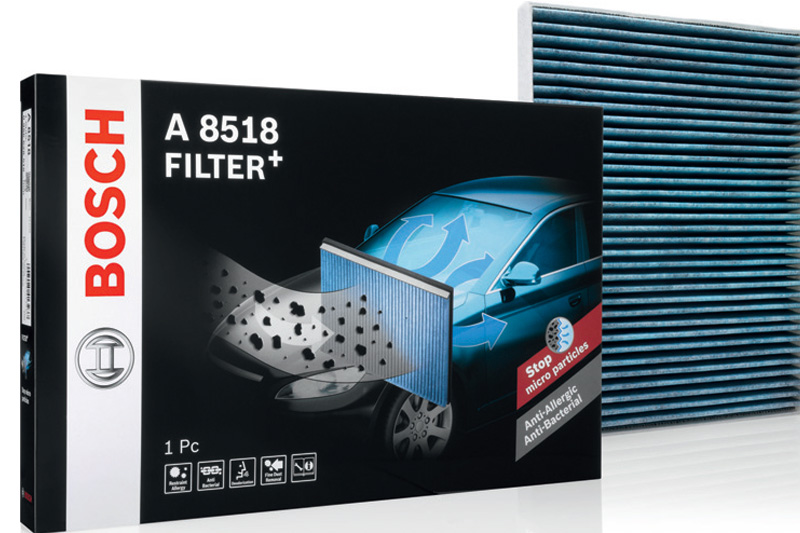 ---
Bosch recommends replacing cabin filters once a year or every 9,000 miles. The company offers a range of over 500 cabin filters covering 99% of vehicles in the UK and Ireland vehicle parc.
---
For 2021, Bosch has released a further nine part numbers, increasing the combined coverage of the UK passenger cars to approximately 20 million vehicles.
In addition, the company has developed the FILTER+ range. These filters separate up to 99% of all particles with a diameter of up to 2.5 microns; so-called 'fine dust'. With its anti-allergy layer, allergens and bacteria are neutralised before they enter the vehicle's cabin.
Cabin filters represent an untapped profit potential for workshops. A recent survey showed that approximately only 10% of drivers changed their cabin filters in the last 12 months and 65% of cars in Europe are running with a contaminated cabin filter. When you consider that Bosch recommends changing them annually or every 9,000 miles, the number of untapped sales is substantial.
A/C service units and training courses
To keep a vehicle's A/C system in prime working order and avoid expensive repairs, Bosch recommends A/C servicing once a year. With nearly 90% of cars in the UK now having A/C systems, but only 56% of independent garages having the necessary equipment to service them, those investing in the right training and equipment are making very healthy profits. Recent additions to the company's range of A/C service units are claimed to have a 99% recovery rate, giving workshops a significant return on investment (ROI) on the recovered gas alone.
As an extra incentive, the company is offering special pricing on selected Bosch A/C units from 1st April until 30th June 2021. For more details, contact your nearest Bosch distributor.
---
For more information, click
here
.