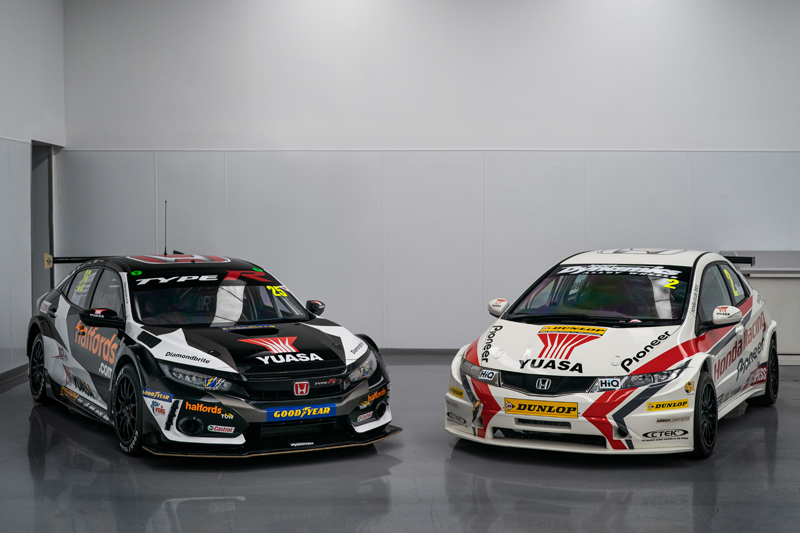 ---
Yuasa has been preparing for the return of the British Touring Car Championship (BTCC) at Donington Park which will take place 1 – 2 August. 
---
After a much-anticipated wait, the two Halfords Yuasa Racing cars will take to the track as the 2020 season gets underway.
The 2020 championship was due to kick off on 29 March, but due to the global situation there was no other option than to put the season on hold.
Although delayed, the 2020 season will mark the 10-year anniversary for Yuasa in the BTCC and with Team Dynamics, having first become sponsors in 2010. The battery brand, manufactured by GS Yuasa, unveiled the Honda Civic Type R FK8 back in March, alongside the championship winning Civic FN2 from 2011.
Despite not competing in any race events so far, the new FK8 challenger has reportedly completed successful test days in preparation for the delayed season opener. Both cars will feature a fresh new livery featuring Yuasa's branding alongside matte elements for the first time. To commemorate the battery manufacturer's 10-anniversary, a special logo will also be featured on the car's side.
The Civic's will be piloted by three-time champion Matt Neal and Dan Cammish. 2020 also marks Matt's record-breaking 30th year in the championship. In that time, he has secured 63 race wins and 3 drivers' championships.
The Droitwich-based team hopes to build on the Honda Civic FK8's successes over the last two seasons. The Team Dynamics-run Halfords Yuasa Racing team scored podiums at 18 races in 2019, securing the team's championship, but narrowly missed out on becoming drivers' champions at the season finale at Brands Hatch.
James Hylton, Managing Director at GS Yuasa Battery Sales UK Ltd, said: "We're proud to continue our partnership with Halfords Yuasa Racing, especially as we celebrate 10 years in the championship and look forward to our 11th season. It will certainly be one to remember!
"Yuasa's performance on track over the last 10 years has strongly reflected our core values of quality, reliability and performance. Both Matt and Dan have provided some incredible results and we're very much looking forward to watching them finally go racing at Donington Park."
Matt Neal, Halfords Yuasa Racing Driver, added: "Not only have Yuasa been our longest serving sponsorship partner, but they have truly embraced the meaning of the partnership from our humble beginnings together back in 2010.
"I cannot thank them enough for the help and support they have given the team and I over the years, through the good times and the bad, they have stood by our side. I am very proud to be associated with the Yuasa brand and the great team of people that are behind it and its products."
This season is still planning on going ahead as a 30-round championship, starting at Donington Park on 1-2 August and ending at Brands Hatch on 14 – 15 November.
---
To stay updated with all the news and up-close action on BTCC race days, follow @YuasaEurope on
Twitter
or
Facebook
. To find out more about Yuasa, visit
www.yuasa.com
.