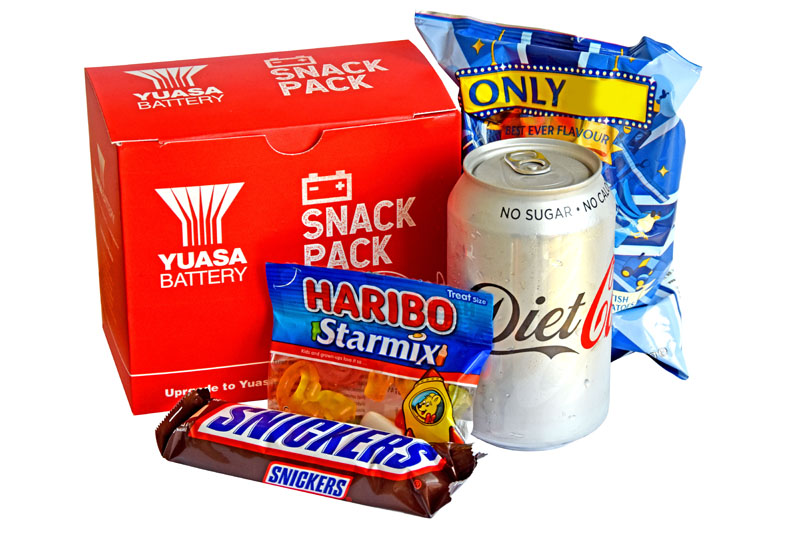 ---
Yuasa has announced the launch of a free snack pack scheme for the trade. 
---
Workshops and technicians will be able to get their hands on a pack full of treats every time they purchase Yuasa batteries from participating distributors.
The scheme has been launched to encourage workshops to stock up and beat the winter rush, as well as provide technicians with a much-needed snack supply to help them get through the busy period.
As the world continues to get back on the road, servicing, repairs and MOT demand has been surging. Add to this the approaching winter, and the requirement for batteries, it is expected that this demand will be higher than ever before.
At the peak of the coronavirus pandemic, it is estimated that around 70% of the UK's cars remained immobile. Many of these vehicles will have suffered battery damage due to reduced usage so testing, replacement and charging services have never been more important.
Available now from participating Yuasa distributors nationwide, each Yuasa-branded snack pack contains a selection of confectionary favourites including a can of soft drink, packet of crisps, chocolate bar and bag of sweets.
James Douglas, Marketing and Product Manager at GS Yuasa Battery Sales UK Ltd, said: "We are excited to launch our free snack pack promotion to workshops. The coronavirus lockdown has had a massive effect on vehicles, causing many non-start, battery related problems. Combine this with the winter season around the corner, we are expecting the demand for batteries to be higher than ever.
"We are encouraging all workshops to act now and test every battery on every vehicle to ensure they make the most of the opportunity this winter, but more importantly, so they can enjoy a free snack pack on us during these busy periods!"
---