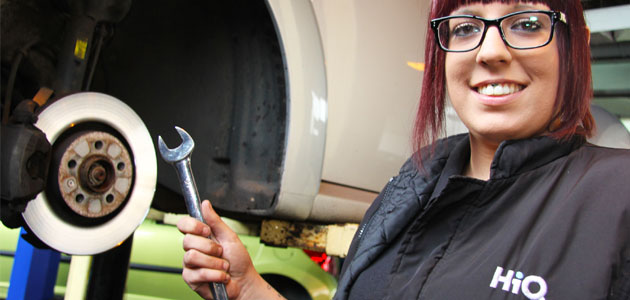 A female Somerset apprentice has taken inspiration from Queen Elizabeth II after jump-starting a career with fast-fit tyre specialists HiQ.
During World War II, Her Majesty was one of thousands of women who trained as mechanics to repair emergency vehicles – but the industry has since become dominated by men, with fewer than 1% of the approximate half-a-million mechanics in the UK being women.
Yet this did not deter Bath resident Sophie Elcome-Thorpe, who has started working as an apprentice mechanic at the Lower Bristol Road branch – the first female recruit since opening 30 years ago. 
Despite receiving little support from teachers at school, the 21-year-old says her interest in cars is home-grown, after becoming immersed in the world of mechanics from a young age: "It's all down to my family – my grandad and my uncle were both car enthusiasts and they got me involved so I've been getting my hands dirty for a while now," she said. 
"I wasn't encouraged to become a mechanic by my teachers – in fact it was never even highlighted as a potential career path for girls to take – but I had the full support of my family which inspired me to seriously consider the trade." 
Sophie is the sole female employee in the dozen-strong workforce at the garage, but she remains unfazed having spent many of her post-school years in male-dominated environments.
"I was the only girl on my course, but it wasn't a surprise. In fact, it was absolutely fine. I've been on college courses that were the same having studied manufacturing and engineering when I left school." 
Like a trip to the dentist, a visit to the mechanics is sometimes seen as a daunting task – especially for women who are worried their gender will lead to them being seen as an easy target and consequently ripped off – but Sophie says that her presence, along with a range of initiatives designed to make women feel more comfortable in garages, can be enough to settle those fears.
"I think women feel more at ease when they visit now, possibly because they don't think I'll automatically assume mechanical ignorance," she says. "Older women especially can get intimidated coming in to a fast-fit environment so it's nice for them to see a female there – it calms them down a bit and makes them feel more relaxed."