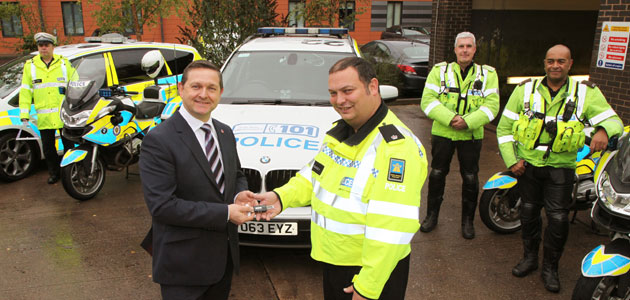 As part of its partnership with the Central Motorways Police Group (CMPG), TyreSafe has presented its Commanding Officer, Superintendent Paul Keasey, with calibrated tread depth gauges to assist with its tyre safety policy.
The CMPG is responsible for over 400 miles of Britain's busiest motorway network, reaching from the Welsh borders through to Cheshire and across to the East of Birmingham.
Comprising specially trained officers from the West Midlands, West Mercia and Staffordshire police forces, CMPG is the largest single motorway police group in Britain.
"TyreSafe is proud to draw on the direct support of many of the bluelight services across Britain, including the Chief Fire Officers Association and many of the police services," said Stuart Jackson, chairman of TyreSafe.
"These dedicated professionals all too often have the regrettable task of dealing with the consequences of drivers' not properly maintaining their tyres, sometimes under the worst possible circumstances.
"However, they also play a key role in spreading awareness of tyre safety in their routine engagement with Britain's motorists and it is in this capacity that TyreSafe is only too pleased to offer its support in assisting with their preventative and educational advice.
"We hope this presentation of tread depth gauges to the CMPG will enhance the group's ability to reduce the number of tyre-related incidents across its network."
Superintendent Paul Keasey said: "One of the primary roles of the CMPG's is to assist in the reduction of killed and seriously injured casualties across our network. Identifying vehicle defects which have the potential to cause accidents and injuries is a significant part of that, and any support which increases drivers' willingness to take responsibility for their vehicle's roadworthiness is welcomed.
"Motorists should consider that they have the option to take responsibility for tyre safety, and it is better for all concerned that they do so rather than one of the CMPG officers who take a dim view of negligence."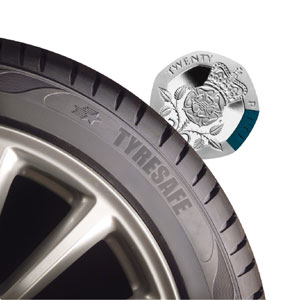 The minimum legal tread depth for a car's tyre is 1.6mm across the middle three-quarters of its circumference.
To see how close the tyre is to that limit, simply insert a 20p at several points across the width and around the diameter, checking whether the outer border of the coin is visible at any point. If it is, the tyre maybe illegal and you may face three-points on your licence and up to a £2500 fine – and that's for each defective tyre.
Over 15,000 tyre-related convictions were recorded in Britain for the three years spanning 2012 and 2014 and on average 2.2 million vehicles fail their MOT because of tyre condition.