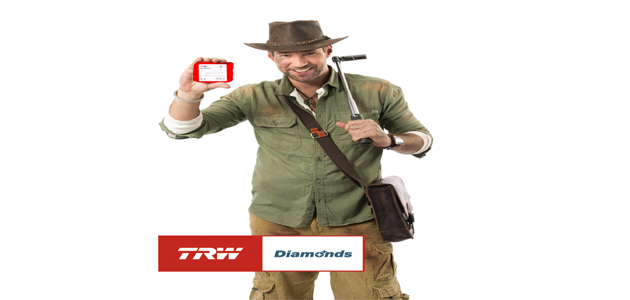 TRW has revealed a 'double diamonds' promotion on all products in multiple original equipment ranges.
Until September 2013, customers will be able to earn twice the 'diamonds' when purchasing OE quality steering, suspension and shock absorbers; then, 'diamonds' can be redeemed to earn luxury gifts.
Alexander Knorn, spokesperson for TRW-Diamonds, said the company was emphasising its independent campaign, whilst rewarding loyalty and highlighting safety on a large scale.
"We are currently celebrating our steering, suspension and shock absorber products with our 2013 Corner Module campaign," Mr Knorn said.
"This double diamonds promotion further supports the campaign, celebrates the second birthday of the loyalty programme and communicates our central message of safety at every level to an even wider audience.
"At TRW, we are passionate about the quality of automotive aftermarket products. Mechanics know that when they fit a TRW part it will work within the system, as the original manufacturer intended."
After registering at www.trwdiamonds.com, a welcome pack containing unique identity envelope stickers is dispatched. Upon receipt of the relevant product box flaps, the stickers are scanned and the account holder is advised of the current value of his 'diamonds' by e-mail.