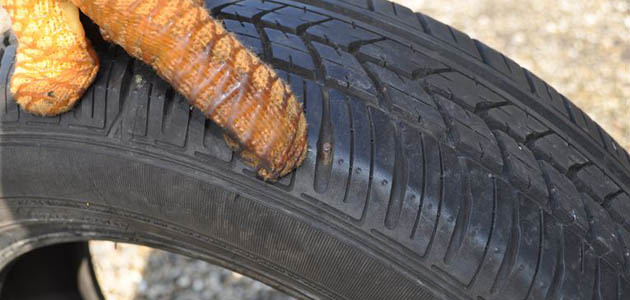 Trading Standards offices across the UK are being urged by TyreSafe to enforce existing regulations regarding the sale of part worn tyres in a bid to help improve consumer safety after its own month-long nationwide investigation unearthed some alarming results.
TyreSafe's study, which involved the purchase of 50 random part worn tyres from retailers across the UK, found that 98% were being sold illegally as they did not meet current requirements. Yet more concerning was that more than a third of the tyres were found to contain potentially dangerous forms of damage or non-compliance.
"Despite clear legislation it would appear from our investigation that the sale of illegal part worn tyres is a very real problem and needs to be tackled head on by Trading Standards as a matter of urgency.
"Those who sell illegal part worn tyres need to be educated and stopped as it really it could be a matter of life and death," said Stuart Jackson, Chairman, TyreSafe.
And as if further proof was needed, one tyre in its investigation was described as having the "potential to kill" as it still contained a metal object penetrating 5cm through the tread in a manner which was likely to result in sudden and total tyre failure had it been fitted to a vehicle.
Other serious safety breaches included dangerous and unsafe repairs, exposed cords, bead damage and evidence of runflat damage.
Despite TyreSafe's ongoing campaigning, tyre safety remains a significant problem in the UK. Indeed, last year, there were more than 1,200 road casualties where illegal, defective or under-inflated tyres were a contributory factor.
"TyreSafe fully understands the budgetary pressures felt by many public sector departments but we would still urge Trading Standards offices to prioritise whatever resources they have to tackle rogue traders who continue to flout the law by selling illegal part worn tyres," added Stuart.
For its part TyreSafe has just added a number of new resources to its website to help retailers, tyre fitters and consumers fully understand the regulations regarding the sale of part worn tyres. A dedicated part worn tyre section can now be found along with a free downloadable information leaflet.
TyreSafe strongly advocates the fitting of brand new tyres as the safest option for motorists because even if properly marked, it is impossible to know the history of a part worn tyre which makes it extremely difficult to be sure about its internal condition and safety credentials.
For more information about tyre safety or part worn tyres, visit www.tyresafe.org
Part worn tyres and the law
Under The Motor Vehicle Tyres (Safety) Regulations 1994 (reg.7.) part of the Consumer Protection Act, it is an offence for anyone to sell part worn tyres that do not meet the following principal requirements:
– The structural integrity must not be compromised. It should be free of large cuts, any bulges or lumps both internally and externally. No plies or cords should be exposed.
– Tyres must have passed an inflation test prior to sale.
– The original grooves must still be clearly visible in their entirety and must be to a depth of at least 2mm across the full breadth of the tread, around its entire circumference.
– Part worn tyres which have not been retreaded must clearly show the relevant 'E' mark alongside which 'PART-WORN' must be permanently and legibly applied in letters at least 4mm high. These words cannot be hot branded or cut into the tyre.
– Part worn tyres which have been retreaded must show the relevant British Standards mark as applied at the time of retreading alongside which 'PART-WORN' must be permanently and legibly applied in letters at least 4mm high. These words cannot be hot branded or cut into the tyre. Retreaded tyres must also show speed category and load capacity index marks in accordance with BS AU 144e 1998. Any repair to a part worn tyre must have been carried out in accordance with paragraphs 4-7 of BS AU 159.
Results of TyreSafe's part worn tyre investigation:
 
Fault / non-conformity                               % of tyres found in sample (n=50)       
Not correctly marked "Part worn"                                        98       
Repair not in accordance with BS AU 159                        16       
Bead damage (fitting / removal)                                           4       
Exposed cords                                                                         2       
Evidence of running under-inflation                                     6       
Inner liner damager / open liner splices                             4       
Object still penetrating tyre                                                    2