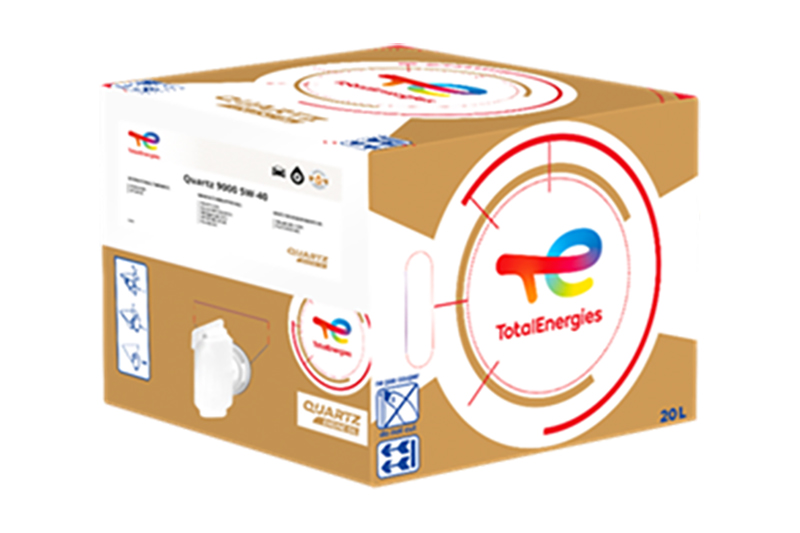 ---
TotalEnergies Lubrifiants has expanded its portfolio with Quartz Box, a solution for workshops.
---
Professionals are confronted daily with various operational issues, such as the rise of manufacturer standards and technical evolutions of engines. This increases the number of lubricant references in their workshops, as well as a lack of available space, waste management and plastic reduction. To meet these challenges, TotalEnergies Lubrifiants has developed Quartz Box and its associated display unit.
The product offer will initially be composed of 11 engine oils, covering the main manufacturers specifications of vehicle fleets on the market.
Quartz Box will be first available in following European markets: Austria, Balkans, Bulgaria, Czech Republic, France, Germany, Greece, Italy, Netherlands, Denmark, Portugal, Spain, UK.
Quartz Box features an Cheertainer inner bag that offers puncture resistance where the lubricant is stored. Placed inside a 20-L capacity cardboard box, the product is poured through the dedicated tap to maintain the high flow characteristics directly from the bag, reducing spillage.
Six pieces of Quartz Box can also be stacked on the shelves, freeing up space in the workshop.
Quartz Box has been designed to be an eco-efficient packaging concept, aiming to increase sustainability by using less plastic and recyclable cardboard, while offering a storage solution and optimised logistics. For the same volume of lubricant, the whole weight is 348 gr lighter compared to a traditional 20L can.
The cube itself has been designed to allow full (>99%3) utilisation of the product inside, supporting a zero-waste concept in the workshop. After use, the box and the bag are disassembled and stored flat so that waste takes up less space and disposal is simplified.  As Quartz Box can be completely flattened, waste storage volume need is reduced compared to traditional rigid plastic 20-L cans, and it saves up waste disposal thanks to reduction in plastic volume.
Jean Parizot, Inland General Manager at TotalEnergies Lubrifiants, said: "We are very proud to offer our customers this innovative solution. Quartz Box is an exceptional opportunity for TotalEnergies Lubrifiants' partners to expand their specialty oil offering without having to resort to bulk storage.  Quartz box addresses a dual business objective: greater operational efficiency and more environmentally friendly packaging".
---