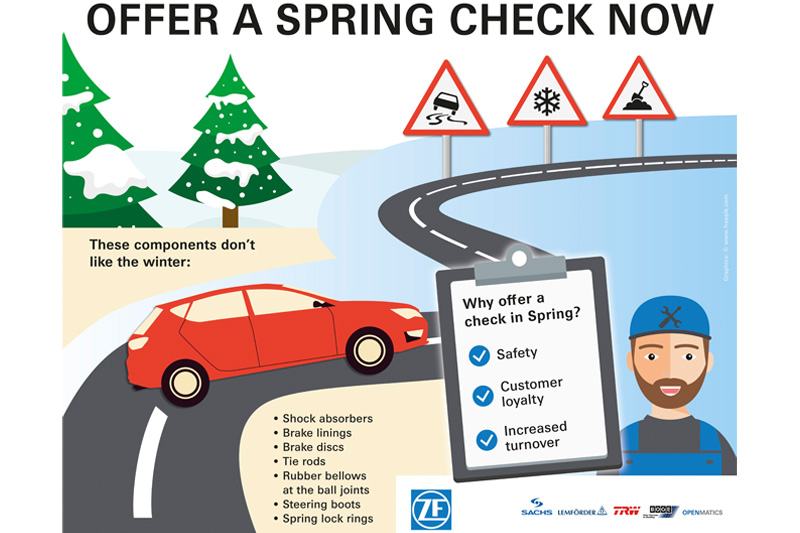 ---
In a bid to increase awareness, ZF Aftermarket examine the damage that winter roads can do to vehicles and highlight the importance of checking safety critical automotive parts during the Spring.  
---
In 1980, the Highways Act was amended to state: "A highway authority is under a duty to ensure, so far as is reasonably practicable, that safe passage along a highway is not endangered by snow or ice."
This means the various highway authorities throughout the UK are responsible for gritting nearly 90% of all the roads; mainly motorways, main roads and trunk roads. In all, they collectively cover some 225,000 miles of roads; spreading approximately 2 million tons at a cost in excess of £150 million per year.
As necessary as this is to keep vehicles from slipping on icy roads, unfortunately it can do a great deal of damage when it comes into contact with important chassis components. In line with this, ZF Aftermarket experts believe that a professional check of the braking & chassis systems is absolutely essential after the winter months. This should include an expert inspection of the brake hoses and calipers to test the functionality, durability and impermeability.
Defective shock absorbers are a severe safety risk
A defective shock absorber can be detrimental to braking performance; increasing braking distance and reducing traction on corners which increases the risk of aquaplaning. In addition, the effectiveness of common electronic assistance systems – such as Antilock Braking Systems (ABS) can be severely compromised. In line with this, experts strongly recommend that shock absorbers and all complementary components be initially inspected after 50,000 miles at the latest, and thereafter every 12,000 miles.
Focusing on suspension components
Although it is generally called road grit, what is used on the roads to clear snow and ice is actually rock salt. Rock salt lowers the physical freezing point of the moisture on the road surface, which stops ice forming and causes existing ice or snow to melt, sometimes surprisingly rapidly. When this rock salt comes into contact with a vehicle's sensitive suspension components, it can cause rubber parts to perish and metal to eventually erode.
Leak testing of the rubber bellows at the ball joints should be part of the Spring check, as well as a professional inspection of the tie rod, tie rod end and axial joint. Furthermore, the specialists at ZF Aftermarket recommend inspecting the steering rack gaiter and spring lock rings. Wear on these parts occurs gradually, however, weak parts will have a significant impact on driving behavior in critical situations.
Proficient information about possible safety risks instils confidence which can not only boost customer loyalty, but generate additional sales in the workshop. The importance of vehicle maintenance and overall component safety including a Spring check, cannot be rated highly enough. It is also essential for the value retention of the car.
High customer satisfaction thanks to parts with OEM quality
ZF Aftermarket contributes to road traffic safety with a wide range of OEM quality products: brakes from TRW, shock absorbers from Sachs and chassis and steering components from Lemförder, perfectly equip garages to meet all service and repair needs. In addition, the aftersales specialist offers a wide added value service portfolio: from practical training courses through to technical information and professional workshop concepts.
Richard Adgey, Director Product Management of ZF Aftermarket, explained: "Our products, under the established Sachs, Lemförder and TRW brands, stand for quality and durability. In addition, we offer a broad range of added value services to our customers. Besides trainings and technical information, every spare part can be found without any problem via the ZF Part Finder App."
---
For further information from
ZF Aftermarket
, click
here
.