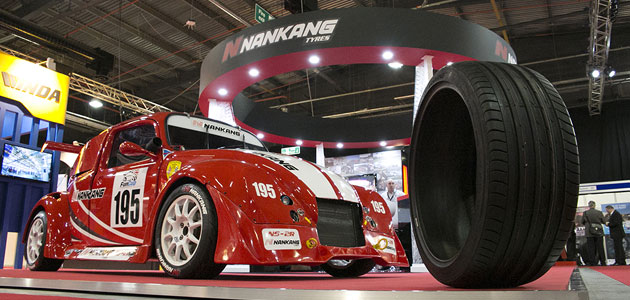 SingEx-ECI International, the organiser of the recently-concluded Brityrex International 2014, plans to build on the success of this year's show and grow it to become the United Kingdom's principal tyre trade exhibition.
The foundation has already been established as evidenced by the depth and breadth of the show, and the positive response that it elicited from both exhibitors and visitors. Visitors to Brityrex
International 2014 were treated to an expanded programme which encompassed informative and engaging discussions within the TyreTalk seminars, enhanced product variety and numerous product launches.
Aloysius Arlando, Chief Executive Officer of SingEx Holdings, the holding company of SingEx-ECI International says, "We are grateful for the positive comments received from our partners at Brityrex International, particularly those relating to the quality of buyers, the professional presentation of the event and the value of the TyreTalk seminar programme."
"Our task now is to examine all of the feedback and put plans in place that will take the show to the next level. Those plans are likely to see increased investment in the show and will certainly include working closely with the trade and key sponsors such as the National Tyre Distributors Association (NTDA). We are focused to grow the entire Tyrexpo series to be the leading tyre trade event in the respective regions. The next edition of Tyrexpo Asia, to be held in Singapore in March next year, marks the tenth edition, and will be the largest and most comprehensive show since its launch two decades ago."
Commenting on Brityrex International 2014, National Tyre Distributors Association (NTDA) Director Stefan Hay, says: "Brityrex International was an excellent event for us at every level. Our stand was busy with enquiries for membership and services. The TyreTalk seminar programme we organised was both popular and informative, and our annual dinner and Tyre Industry Awards evening was a sellout, for which we are still receiving plaudits."
"On behalf of the association, I thank our members for their support and contribution, and also our colleagues at SingEx-ECI International, for the constructive and rewarding relationship we have enjoyed with them," he adds.
Pirelli UK's Managing Director, Dominic Sandivasci, says: "It was great that we returned to the Brityrex International exhibition. It is a good event for the trade to really get together, and for us, it provided a perfect opportunity to showcase how we work with the world's most prestigious car manufacturers to engineer our products."
He adds: "Brityrex International 2014 also coincided with the 85th NTDA Annual Dinner and Tyre Industry Awards where we were honoured and humbled to be recognised as Tyre Manufacturer of the Year by our Industry colleagues. This award is recognition of all the hard work and commitment that everyone within Pirelli UK makes towards understanding the requirements of our customers, implementing industry leading initiatives and delivering a premium service with premium products."
Tim Bader, Group Operations Manager from Kings Road Tyres (KRT), an exhibitor at the event, says: "KRT always makes a special effort to support Brityrex International, and this year, it provided the perfect occasion for the launch of our exclusive range of Aeolus passenger car tyres. As a business, we firmly believe there is no substitute for meeting customers face-to-face, and the interest shown in the new range by visitors to our stand once again endorsed this approach. It was good to see major companies like Pirelli and Michelin Training at the show; I hope they will set an example that other manufacturers will follow at the next Brityrex International."