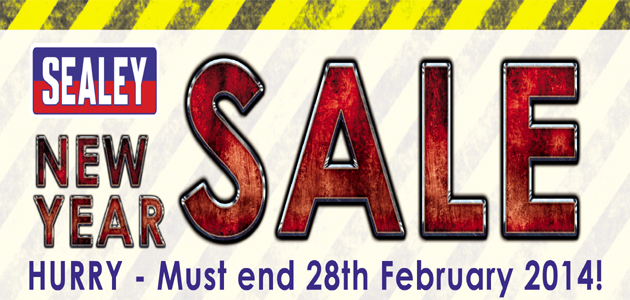 Starting from today, a brand new year, Sealey have launched a New Year Sale price slash, with savings up to 72%. The 48-page promotion is full of price reductions on over 600 products, including toolboxes, workbenches, hand and power tools; welders, compressors and jacking and lifting equipment.
The CP2400 24V ½" Sq Drive Cordless Impact Wrench, featured on the front cover, is delivered with a saving of 36% along with a free second battery.
Other items on offer include the BG150XLW/98 150mm Bench Grinder with Wire Wheel, SM20 50ltr Workshop Parts Cleaning Tank with Turbo Feature and the 3003CXQ three-tonne Professional Trolley Jack with Super Rocket Lift, which brings lifting arm straight into contact with jacking point with a single pump of the handle.
Sealey's promotion lasts until the 28th February, so be sure to take advantage. Visit online or download the free Sealey app for smartphone or tablet.