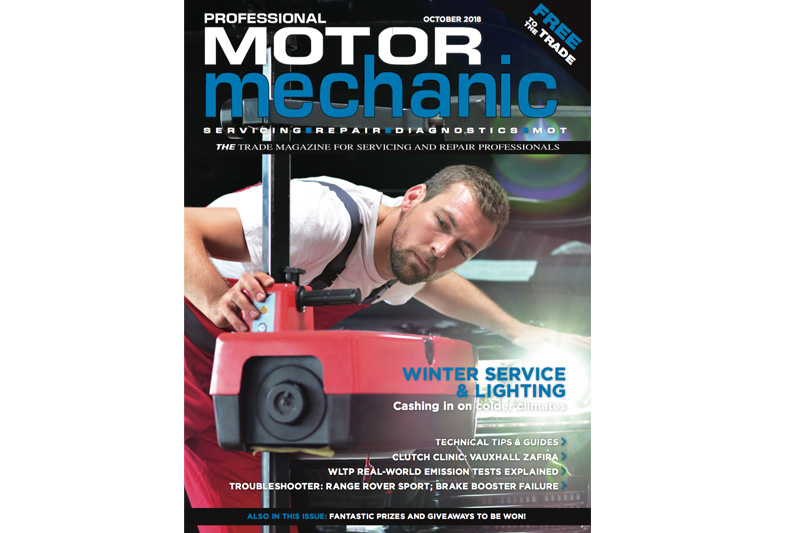 ---
The October 2018 issue of Professional Motor Mechanic magazine has hit the streets!
---
PMM October includes all the latest news, technical hints and repair advice, as well as the newest tools and products from the best suppliers. There are also plenty of goodies and prizes to be won!
Highlights and features this month include:
– Clutch Clinic: Step-by-step clutch fitment guide for a 2013 Vauxhall Zafira with Schaeffler Repxpert.

– Belt Clinic: Step-by-step belt fitment guides for an Alfa Romeo and the VW Golf Mk VII with Dayco.
 – Tech Tips: Shaftec explore why and how you should flush a hydraulic steering system and Gates looks at how to safely replace TVD bolts.

– Vehicle Troubleshooter: Pico's Steve Smith looks at a brake booster failure on a 2007 Land Rover Range Rover Sport L320.

– Business: Neil Pattemore shares his views on the changes in the aftermarket sector.

– Special Reports: Klarius looks at how the new WLTP real-world emission tests affect the automotive aftermarket whilst Automate reports on what could be an almighty profit crunch in the automotive world.

– Winter Service & Lighting:  Johnson Controls assesses how start-stop technology will effect change in the aftermarket over the next decade and ZF look at promoting the importance of seasonal safety inspections. 
–Oils, Lubricants & Additives: PMM investigates the removal of an engine oil from sale following an investigation by VLS and Morris Lubricants explains why it is so critical that you service a vehicle with the correct grade oil. 
– Engines & Turbos: Melett looks at turbo fault diagnosis and the Gates inspector looks to solve the premature failure of an accessory belt drive system in a 2001 Peugeot 306. 
– Tools & Garage Equipment: Induction Innovations look at how to remove an oxygen sensor using induction heat and Martin Broadhurst, Team Manager on the British Touring Car Championship, detail his experience using the Bosch GDR 18 V-160 Professional Impact Driver. 
and much more…
PLUS: You can WIN an MOT compliance bundle and your height in beer with MOT Juice.  And as always, there's a great selection of freebies up for grabs! Click here to see current comps and giveaways. 
The magazine is FREE and available from most local factor stockists, so don't forget to ask for your copy!
---
If you're having problems getting your hands on your copy of

PMM October

,

click here to find a stockist near you.