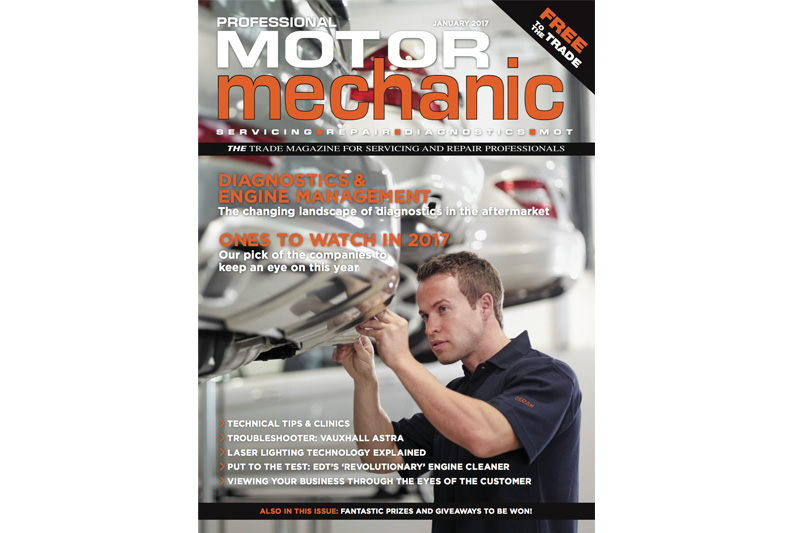 ---
Happy New Year! The first issue of Professional Motor Mechanic Magazine 2017 has hit the streets!
---
PMM January includes all the latest news, technical hints and repair advice, as well as the newest tools and products from the best suppliers. Also, there are plenty of goodies and prizes to be won!
Highlights and features this month include:
– Clutch Clinic: How to replace the clutch on a 1.2 Petrol (Z12XEP) Vauxhall Corsa.

 – Belt Clinic: Replacement guide for 1997 Opel Omega B, 2.5L V6 with engine code X25XE.
 – Tech Tips: Nissens looks at why the turbo and intercooler relationship is more important than ever, whilst Induction Innovations will be removing flywheel bolts using induction heat.  Autodocta are also back, looking at common faults on a Citreon C3 III and a Mini Countryman.

 – Vehicle Troubleshooter: Joshua Jones, a Devon based Garage Manager for the AA, is back for PMM this month, as he considers the old adage, 'It's never the ECU'.

– Business: Neil Pattemore discusses 2017 as a pivotal year for the future of the aftermarket and Andy Savva urges garage owners to view their business from an entirely different perspective in his first article of the year for PMM.

– Ones to Watch in 2017 – A look at the companies, products, events and issues that are set to make the headlines this year.
– Tools & Garage Equipment: EDT's 'revolutionary' engine cleaner gets the product test treatment.

– Diagnostics & Engine Management: The future of diagnostics in the aftermarket.

– Winter Service & Lighting: The essential guide to aintifreeze and coolants.

PLUS: You can WIN a complete garage management software package.

The magazine is FREE and available from most local factor stockists, so don't forget to ask for your copy!
---
If you're having problems getting your hands on your copy of PMM January,

click here to find a stockist near you.