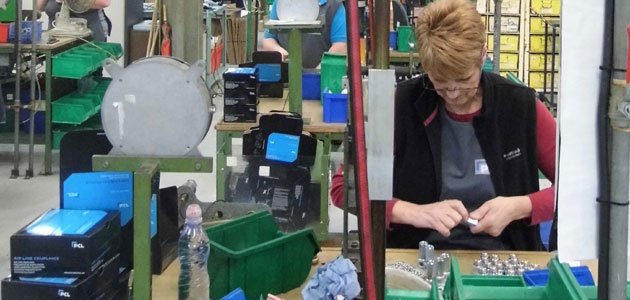 PCL has come a long way since its humble beginnings in a small Sheffield factory in 1938. Today, PCL operates from a high-tech production facility and has a turnover of £11 million and growing, with sales into 85 countries and subsidiaries in India and China. Since its merger with the Horngroup, PCL's portfolio now includes the Horn Tecalmit branded fluid and garage equipment products. 
One thing that hasn't changed is PCL's commitment to UK manufacturing. PCL remains loyal to its Sheffield roots, and the company recently invited some of the country's top trade editors to view the operation in action.
Visitors were taken on a tour of the factory to experience PCL's culture of making reliable products which offer high quality and performance with an environmental emphasis. They were impressed with the intense focus on quality and standards, coupled with PCL's dedication to Investors in People culture and training programmes and driven by Lean Manufacturing principles employed to maintain UK competitiveness
 The open day coincided with the makeover from gold to silver of PCL's famous couplings. First manufactured in the early 1940s, PCL's couplings now feature a sleek silver look in line with the main family branding. Still made from hardened steel to ensure extra durability, the only physical change is that the electrical plating on the couplings will be Trivalent chromate to remove the associated health risks of Hexavalent chrome. All PCL couplings will continue to be built by hand and 100% individually tested for guaranteed reliability all in PCL's modern factory in Sheffield, utilising the very latest equipment.
PCL Managing Director, Ian McCreadie, proclaimed the day a great success, saying; "It was a pleasure to conduct a tour of the factory and introduce journalists to PCL's dedicated team. It was a good opportunity to demonstrate PCL's core values of commitment to UK manufacturing and witness our workforce in action."