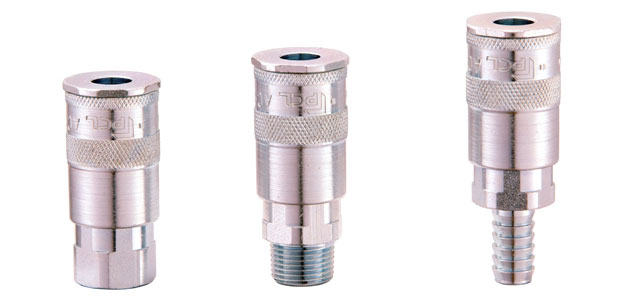 Gold doesn't always come first, as PCL is about to prove by changing its famous couplings to silver using a more environmentally-friendly process.
This means that the ever-advancing PCL coupling will undergo a makeover from gold to silver but will still be made from hardened steel to ensure extra durability.
All PCL couplings will continue to be built by hand and 100% individually tested for guaranteed reliability all in PCL's modern factory in Sheffield, utilising the very latest equipment.
The new sleek silver look means that the couplings will fit in with PCL's main family branding, with the only physical change to the product being the plating process – whereby the electrical plates on the couplings will be coated with Trivalent chromate to remove the associated health risks of Hexavalent chrome.
The removal of Hexavalent chromates in PCL's manufacturing process for couplings will be a rolling change, which began on September 1st.
Although arguably the most commonly used chromate throughout most industries worldwide, Hexavalent chrome (Chrome VI) is a known carcinogen and, even though it is used in very minute quantities in chromates, its use is being eliminated by companies throughout the world. The European Union initiatives End of Life Vehicles (ELV) directive and the restriction of the use of certain hazardous substances in electrical and electronic equipment (RoHS) directive both restrict the use of Hexavalent chromates.
Trivalent chromate (Chrome III) are Hexavalent chrome (Chrome VI) free and meet the more stringent requirements of today's international specifications and are being used more predominantly. Trivalent chromates also produce a harder, scratch-resistant coating with good corrosion resistance.
PCL has already successfully introduced Trivalent chromate to other products, including tyre valve connectors and the iconic MK3 tyre inflator; so customers purchasing their renowned couplings will benefit from an even better, more advanced product profile which builds on PCL's expert manufacturing process.
PCL's unique quick release couplings and adaptors were first made in the early 1940s when the company set up its factory in Sheffield, and were then patented in 1944.
Today's range has developed into a world-leading collection of couplings designed for a variety of markets, from AIRFLOW and VERTEX to the common industry interchanges and Safety Couplings.
This latest advance in the manufacturing process underlines PCL's reputation as an environmentally-responsible company committed to UK manufacturing. PCL is proud to display the city's prestigious mark of quality and excellence on its "Made in Sheffield" products, which promise to meet the requirements of relevant quality standards and stringent European and other market approvals.