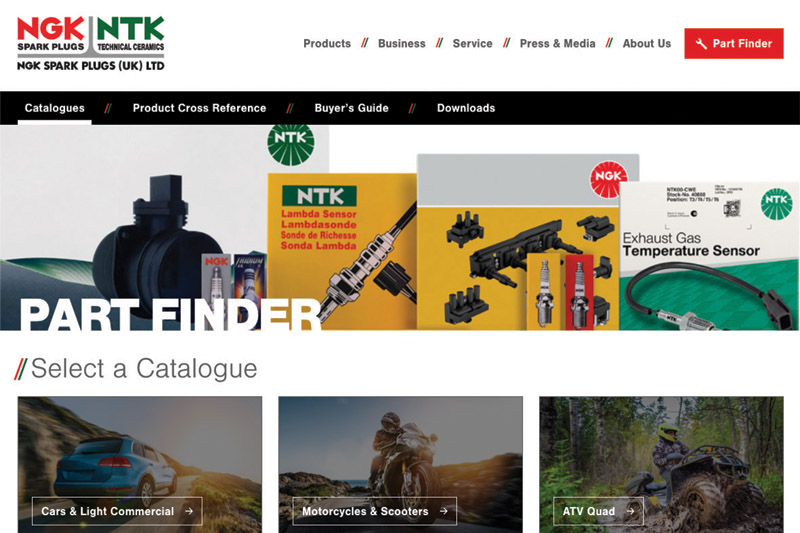 ---
NGK has refreshed its online Part Finder facility, with the aim of providing a better service for its distributors and garages.
---
Improvements have been made to make it easier to find the location of a correct part for specific vehicle requirements, as well as enhancements to the images displayed.
Part Finder is located on the company's website and includes catalogues for: cars and light commercial vehicles; motorcycles and scooters; ATV Quad; horticultural & small engines; marine; and classic vehicles.
It features the company's product portfolio of spark plugs, glow plugs, ignition leads, ignition coils, oxygen sensors, EGTS sensors, MAP & MAF sensors and camshaft and crankshaft sensors, giving the correct part number for thousands of model applications.
Mark Hallam, Marketing Manager at NGK Spark Plugs (UK), said: "All of our data is now available in an enhanced user environment on our website. There have been a number of electronic improvements that have been made to make it even more user-friendly for our customers. Image quality has been enhanced and we believe our customers will appreciate the new look, which is in keeping with the company's corporate identity.
"Our technical team has worked diligently to help put the improvements in place and the reaction we have had from customers so far has been very positive. However, as a company we never stand still, and we will continue to update and improve Part Finder and would appreciate further feedback from customers to enable us to continue to improve the facility."
Part Finder is free to use and located via the NGK home page and includes catalogues for each area of the company's business as well as product cross-references, buyer's guide and downloads.
---
For more information about NGK Spark Plugs (UK) Ltd and its products and services, visit
www.ngkntk.com/uk
.