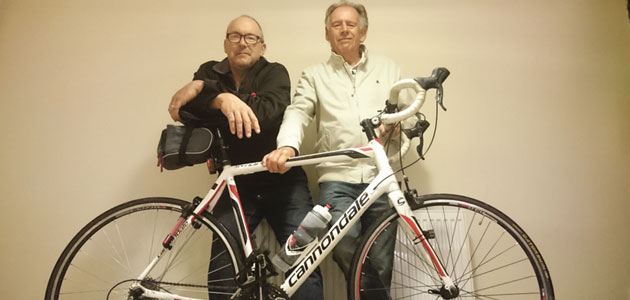 Keen cyclist Stuart Bayne is pounding the roads in preparation for an 1100-kilometre sponsored cycle ride to raise funds for charity.
Stuart, who is Sales Manager – North for NGK Spark Plugs (UK) Ltd, is planning to traverse five countries to raise funds for the Down's Syndrome Association.
He will leave NGK's Hemel Hempstead headquarters on Monday, July 13 and plans to arrive at the company's spark plug factory at Meung Sur Loire in southern France on Tuesday, July 22, visiting NGK's European headquarters at Ratingen near Dusseldorf, Germany en route.
Stuart's route is designed to help mark the 40th anniversary of ignition specialist NGK Spark Plugs (UK) Ltd which was incorporated as a UK subsidiary company of Japan in 1975.
He said: "I have always enjoyed keeping fit and in the past played football and enjoyed running but I fancied a new challenge and thought what better way to get motivated than to plan a charity cycle ride with all funds going to the Down's Syndrome Association which  I know from personal experience does a fantastic job.
"Once I decided to do it I thought it would be a good idea to link it into NGK's 40th anniversary in the UK by visiting the two sites in France and Germany. Over the past few months I've gradually been building up the distances I have covered each day on my bike and now I am all set for the big day."
Stuart, a 51-year-old father-of-three from Haverhill, Suffolk, is being supported in his quest by friend and customer Stuart Larder, of M. E. Autoparts, Lincolnshire, who will accompany him and drive the support vehicle.
NGK Spark Plugs (UK) Ltd – a leading supplier of OE spark plugs, glow plugs and NTK sensors – has already stepped in as main sponsor and a number of other NGK customers have also pledged funds.
Marko Wowczyna, Automotive Director, NGK Spark Plugs (UK) Ltd, said: "We are delighted to support Stuart in his marathon cycling trip for what is such a worthwhile charity."
Down's Syndrome is a genetic condition caused by the presence of an extra chromosome 21 in the body's cells which occurs by chance at conception.
The Down's Syndrome Association is the only organisation in this country focusing solely on all aspects of living successfully with Down's Syndrome and aims to help people live full and rewarding lives.
Stuart, who has been with NGK for 23 years and is a six-time winner of the company's Salesman of the Year award, added: "I've seen first hand how they support and encourage both families and people living with Down's Syndrome through direct contact, information, and education of the condition so it would be great if I could raise funds to help it.
"I would like to offer the opportunity to feature supporting companies' logos on my cycle clothing, and the intention is to also feature this on the support vehicle that is accompanying me."
Anyone interested in helping should contact Stuart on 07770 382377, or at stuart.bayne@ngk.co.uk. A just giving website has also been set up and can be found at http://uk.virginmoneygiving.com/team/cycle321. For more details on registered charity the Down's Syndrome Association, log on to www.downs-syndrome.org.uk.