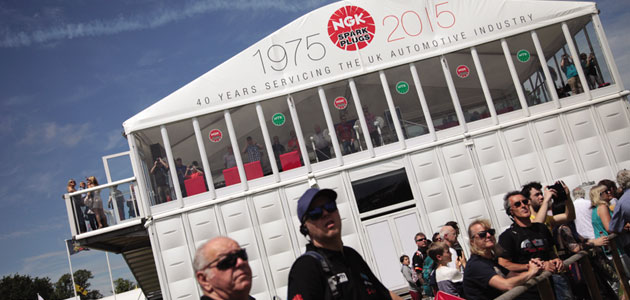 Ignition specialist NGK Spark Plugs (UK) Ltd attracted vast crowds to its Pavilion at the iconic Goodwood Festival of Speed.
The supplier of OE spark plugs, glow plugs and NTK sensors took its place alongside many of the World's leading vehicle manufacturers and two and four-wheel motorsport teams and stars at the four-day event in Sussex.
Triple World Speedway champion Greg Hancock was the star guest on the NGK Pavilion where he met fans and signed autographs before becoming the first Speedway rider to take part in the famous Goodwood Hill Climb.
Aged 44, Greg last year became the oldest rider to win the world title, adding to the previous championships he won in 1997 and 2011.
NGK Spark Plugs (UK) Ltd has sponsored Greg for a number of years, supplying its specialist Iridium racing plugs which he uses on his 500cc motorcycles, one of which was featured on the company's stand at Goodwood alongside the legendary NGK-sparked Lotus Type 79 Formula One car which Mario Andretti won the 1978 F1 championship in and which helped Lotus win the constructors' championship that season.
Other attractions included a MotoGP ART Aprilia motorbike from 2012 and Phil Read's 250cc world-championship winning TD2 Yamaha motorbike from 1971, together with a brand new Lotus EXIGE S, all featuring NGK spark plugs.
Visitors were also able to test their skills against the clock on the NGK Spark Plug Challenge, Storm the Hill on a simulator and take part in the NGK Pitstop Q&A, with contestants competing for prizes that included XBox 360s and tickets to next weekend's British F1 Grand Prix at Silverstone.
Mark Hallam, NGK Spark Plugs (UK) Ltd Marketing Manager, said the event was a huge success: "It was fantastic. As a major component supplier to many of the vehicle manufacturers and motorsport teams who exhibited at Goodwood we felt it was important to have a presence at the show.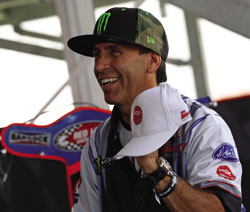 "We attracted a lot of interest from not only our customers, but also the general public at large. Our interactive competitions were incredibly popular and we were inundated with young gamers who wanted to take part in the hill climb. The vehicles, particularly the legendary John Player Special Lotus, also encouraged many people to come onto the stand and Greg Hancock's appearance at the show also attracted a lot of interest."
Californian Greg, who currently rides for Motola Piraterna in Sweden and PGE Stal Rzeszow in Poland, said: "I have really enjoyed being a guest of NGK and being the first Speedway rider to take part in the hill climb, and also the first person to attempt it without brakes! It was great to meet the fans on the NGK Pavilion and also the other motorcycle stars who attended Goodwood. It was awesome."