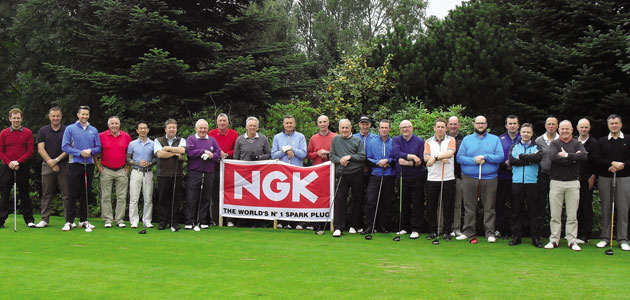 NGK Spark Plugs (UK) Ltd has held its 24th annual Northern Ireland Golf Day at Balmoral Golf Club in Belfast with competition as always fierce, but friendly.
Overall winner of the NGK Shield and low handicap section was Nial Patrick, of R T Autoparts Cookstown, with Gareth McIntyre, of Ballymena Engine Spares, in second place and Robin McMullan, of Motorparts in Strabane, in third.
Clive Jardine, of Partsdoc in Coleraine, won the high handicap section with David Davidson, of Woodstock Motorparts Belfast, in second place and Matt Maguire, of North Down Motor Factors in Newtownards third.
The nearest to the pin prize was won by Cecil Holmes, of Karkraft in Belfast, with Robin McMullan, of Motorparts in Strabane, taking the longest drive competition. The NGK prize was collected by NGK Spark Plugs (UK) Ltd Managing Director Eddie Kobayashi.
After the golf the group retired to the Ramada Encore Hotel before enjoying an evening meal and prize distribution in the Cathedral Quarter's 4th Wall Restaurant.
Stewart Neill, Area Manager (Ireland), NGK Spark Plugs (UK) Ltd, said the event had been another big success: "It is great to see all the customers get away from the stresses and strains of business for a day and enjoy the golf and the friendship that the NGK Golf Day brings. There are many funny stories to be told from the 24 years of golf."
Next year will see NGK Spark Plugs (UK) Ltd celebrate its 25th year of Northern Ireland Golf Days; an event Stewart said customers will not want to miss.